Free British Sign Language Course for Beginners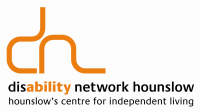 Would you like to learn British Sign Language?
Disability Network Hounslow is offereing a free course for anyone who wants to find out more about BSL and start to learn how to communicate with deaf people.
The first class will be on Wednesday 1st February, from 1.30 to 4.30 in the Star Centre Building, 63-65 Bell Road, Hounslow TW3 3NX.
This building has good access for people with limited mobility. Please contact DNH if you are interested in learning or if you are a BSL user who wants to encourage friends and relatives to learn.
For improvers - there will also be sessions later this year for people who have attended classes in the past but need to learn more and practice to make progress.
DNH has a minicom for deaf people with textphones to contact us: 020 8569 5445.
DNH's Deaf Community worker, Miriam Dubois, can also be contacted by email at miriam@disabilitynetworkhounslow.org
DNH office phone: 020 8577 0956
Disability Network Hounslow website
January 26, 2012