Rocking the night away for Nordoff Robbins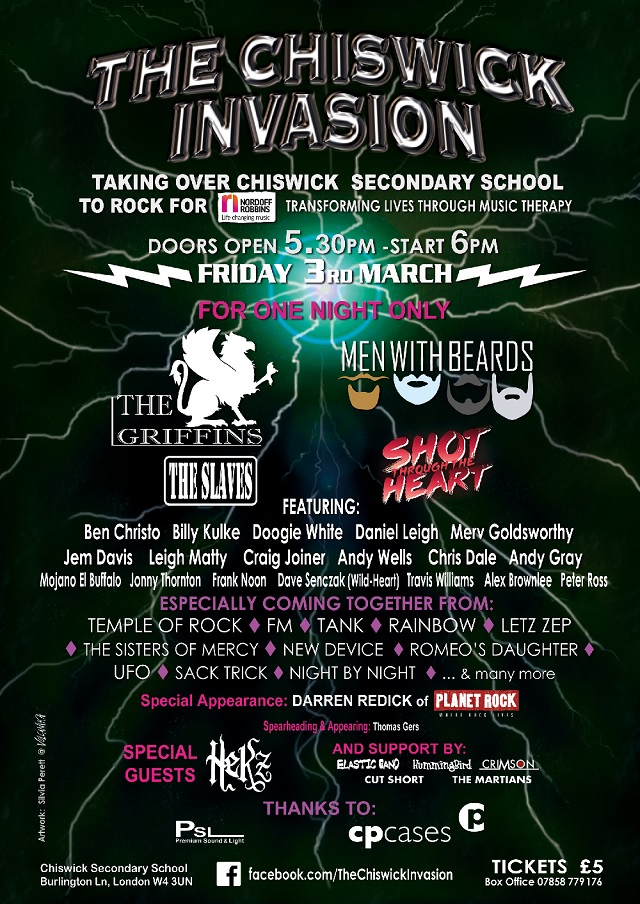 Chiswick Invasion was a success in 2016 and gathered a sizable amount of money for the chosen charity Nordoff-Robbins.
This is a charity that uses the power of music to transform lives.
This event is the brainchild of Brentford resident Thomas Gers, student at Chiswick Secondary School and last year his maths teacher Toni Corbin used 'Event Organising' as case study to bring maths to life.
Tom's enthusiasm was ignited and, after the lesson, in a conversation with his teacher the idea of organising an actual charity event at the school was born.
Last year's success and Thomas's enthusiasm gained the confidence of the new school's head - securing use of the Hall free of charge and a commitment to support this charity event - and, of course, the ongoing collaboration and support of his teacher and champion Toni Corbin and other staff members all living up to the Schools' motto: 'Let's make it happen!'
Doogie White Billy Kulke and Merv Goldsworthy - rock stars that whilst spending most of their time touring around the world, call this part of London home – will be again bringing their power to the Invasion.
They were the first heavy weight musicians from the Chiswick area to pledge their commitment and they are coming back.
And it doesn't stop there. Firecrackers Ben Christo, Chris Dale and Dave Senczak are also returning to join The Chiswick Invasion troops.

Returning to roll with The Chiswick Invasion troops are Travis Williams and Frank Noon!

Andy Gray of Letz Zep and Darren Redick from Planet Rock (radio station) are also back for more.

The chain reaction has brought together other great artists that are also volunteering their time for this event.

Joining the Invasion's troops for the first time are stunning singer Leigh Matty of Romeo's Daughter and keys wizard Jem Davis of FM official, with more power and fireworks, and Craig Joiner and Andy Wells of Romeo's Daughter.
This great group of artists have formed three 'one-night-only' supergroups:
Men With Beards, The Griffins and The Slaves.
And, new this year, ShotThroughTheHeart rocking ensemble - featuring Dan Leigh, Ben Christo, Moyano El Buffalo, Jonny Thornton and Alex Brownlee - are joining us, bringing raucous riffs, heavenly harmonies, searing solos & ballistic beats!
The line–up would not be complete without some outstanding support and following last year's great response, rising UK Rock band HeKz have returned taking position.
Tickets are only £5 for the event which takes place at Chiswick School on Burlington Lane for one night only on 3 March.
February 24, 2017