Meet local people for a hot drink and group activities
The first free Community Coffee takes place Sunday 20th March. Community Coffee at Cathja's Kitchen Table is a unique opportunity to share your ideas, experiences and meet new people.
Sunday is Market day at Brentford, the perfect opportunity to join your community for a cup of coffee and group activities. The launch of Community Coffee will take place on Sunday 20th March from 1pm-3pm. From then on the event will take place every 3rd Sunday of the month.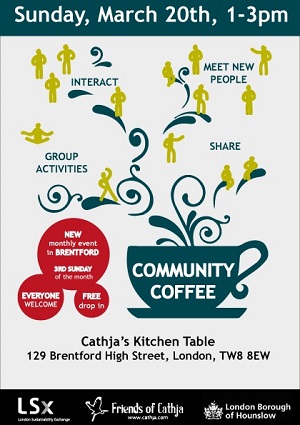 The event is free and people from all ages are invited. Group activities will be planned for different events. Everyone is welcome to bring his/her own ideas for group activities to be organised at the Community Coffee.
The Community Coffee is a result of several meetings that took place at Friends of Cathja. During those meetings became clear what people's aspirations for their neighbourhood are. The participants felt it was "great to meet and discuss local issues with local people", and they want to see the "centre of Brentford becoming alive".
The Community Coffee is part of Well Brentford and Syon's approach to promote healthy lifestyles in the area. It intends to improve people's interaction, skills' sharing and individuals' integration in their community.
March 14, 2016