Come and hear expert speakers in Brentford's Holiday Inn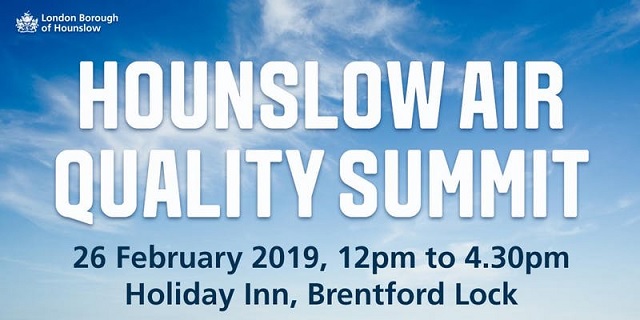 London Borough of Hounslow will hold its first Air Quality Summit on Tuesday 26 February at the Holiday Inn, Brentford Lock from 1pm until 4.30pm. There will be a light lunch available from 12 noon with the speakers starting at 1pm.
Join in to hear expert speakers on the health impacts of air pollution, advances in monitoring air quality, and the latest interventions to reduce emissions (particularly in the transport field).
You can also find out practical actions we can all take to improve our environment and quiz senior officers and councillors about our air quality action plan.
The focus will be on real solutions that are ready to implement in the home, across our borough, or even London-wide.

Councillor Dunne, Lead for Communities & Workforce, said:

"Improving air quality and tackling the health impacts of pollution requires collaborative effort from many different organisations. Poor air quality is estimated to contribute to more than 40,000 premature deaths across the country each year, with emissions from cars and vans estimated to cost £6 billion annually to the NHS and society.
"Come join us at our first Air Quality Summit, where we will be exploring options for a better future with cleaner air. The meeting also offers an opportunity to share good news of what is being done right now as the initiatives are many and varied."
Spaces are limited, so to book your free spot, please email traffic@hounslow.gov.uk or book through Eventbrite .
February 4, 2019