Conservatives lose their only remaining seats outside Chiswick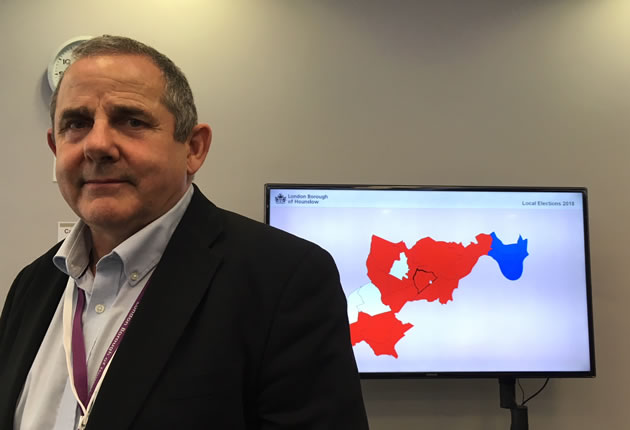 a
Council leader Steve Curran in front of a predominantly red map of the borough
Labour has taken every Council seat in the borough of Hounslow outside of Chiswick in the local elections held on 3 May.
The failure of the Conservatives to hold their two seats in the Osterley and Spring Grove ward means that all of their nine seats in the Council are in the W4 area. Labour has the other 51.
Composition of Hounslow Council
Party
No. of Seats
2018
2014
2010
2006
Labour

51

49

35

35

Conservative

9

11

25

25

Liberal Democrat

0

0

0

3

Independent

0

0

0

10
Local wards in Brentford and Syon had their results announced early and Labour retained all the seats they held there comfortably giving an indication of the way people had voted across the borough.
The first ward to declare in the Brentford and Isleworth area was Brentford which Labour held with a majority similar to the last election. Turnout in the ward was low at just 33.9% which was below the borough average of 36.1% Mel Collins, Guy Lambert and Corinna Smart elected to the Council in this ward.
Hounslow Council leader Steve Curran topped the poll in the vote in Syon ward. He was re-elected along with his two Labour colleagues. They achieved an increase in their vote and the size of the majority although the latter was helped by no Community candidates standing this time. Turnout in the ward was slightly disappointing at 35.9%
Isleworth was held by Labour with a significantly increased majority and nearly a thousand votes each between their candidates and the second placed Conservatives.
The big disappointment for the opposition was in Osterley and Spring Grove where it was hoped that long serving Councillor Sheila O'Reilly would be re-elected. However, although she attracted a considerable personal vote the three Labour candidates won their seats by a substantial margin.
Wards in which the opposition was hoping to make up ground such as Hounslow South also was held by Labour with a sizeable majority.
Even in Chiswick the Conservatives were under pressure and held onto one seat in Turnham Green ward by just 142 prompting local MP Ruth Cadbury to describe it as the best performance by the party in that area for 20 years.
Brentford Ward
Labour Hold
| Name | Party | Votes | % | Elected |
| --- | --- | --- | --- | --- |
| Melvin Barrie Collins | Labour | 2,319 | 20.3% | Yes |
| Guy Lambert | Labour | 2,241 | 19.6% | Yes |
| Corinna Margaret Mary Smart | Labour | 2,118 | 18.5% | Yes |
| Christian Vinante Giovannini | Conservative | 921 | 8.0% | |
| Alex Gewanter | Conservative | 857 | 7.5% | |
| Victoria Louise George | Green Party | 811 | 7.1% | |
| Kinsuk Bobin Mitra-Thakur | Conservative | 789 | 6.9% | |
| Tom Beaton | Green Party | 573 | 5.0% | |
| Tony Firkins | Green Party | 570 | 5.0% | |
| Torron-Lee Dewar | Independent | 250 | 2.2% | |
| Total | | 11,449 | | |
Syon Ward
Labour Hold
| Name | Party | Votes | % | Elected |
| --- | --- | --- | --- | --- |
| Steve Curran | Labour | 1,963 | 50.8% | Yes |
| Katherine Sarah Dunne | Labour | 1,950 | 50.4% | Yes |
| Theo Christopher Dennison | Labour | 1,829 | 47.3% | Yes |
| Robert Oulds | Conservative | 1,024 | 26.5% | |
| Ryan David Harrild | Conservative | 994 | 25.7% | |
| Satvinder Pal Singh Buttar | Conservative | 927 | 24.0% | |
| Fiona Claire McIver-Wilson | Green Party | 492 | 12.7% | |
| Andrea Marsha Louise Black | Green Party | 479 | 12.4% | |
| Jack Piers Ballentyne | Liberal Democrats | 446 | 11.5% | |
| Phyllis Ann Van Der Esch | Liberal Democrats | 375 | 9.7% | |
| Stefan Edward Wells | Green Party | 356 | 9.2% | |
| Steven John Parker | Liberal Democrats | 328 | 8.5% | |
| Total | | 11,163 | | |
Isleworth Ward
Labour Hold
| Name | Party | Votes | % | Elected |
| --- | --- | --- | --- | --- |
| Sampson, Sue | Labour | 1,919 | 19.0% | Yes |
| Shaheen, Salman | Labour | 1,710 | 17.0% | Yes |
| Saeed, Daanish | Labour | 1,674 | 16.6% | Yes |
| Jarche, May | Conservative | 812 | 8.1% | |
| Alapati, Chandra | Conservative | 789 | 7.8% | |
| Jarche, Nada | Conservative | 750 | 7.4% | |
| Thorpe, Robert | Liberal Democrats | 570 | 5.7% | |
| Bourke, Joe | Liberal Democrats | 495 | 4.9% | |
| Asghar, Henna | Liberal Democrats | 483 | 4.8% | |
| Warren, Rebecca | Green Party | 357 | 3.5% | |
| Hatton, Andrew | Green Party | 198 | 2.0% | |
| Ferris, John | Green Party | 195 | 1.9% | |
| Griffiths, David W. | - | 124 | 1.2% | |
| Total | | | | |

Osterley and Spring Grove Ward
Labour Gain Two Seats
| Name | Party | Votes | % | Elected |
| --- | --- | --- | --- | --- |
| Louki, Tony | Labour | 2,201 | 19.6% | Yes |
| Eason, Richard | Labour | 1,971 | 17.6% | Yes |
| Chaudri, Unsa | Labour | 1,904 | 17.0% | Yes |
| O'Reilly, Sheila Margaret | Conservative | 1,420 | 12.7% | |
| Torto, Cynthia | Conservative | 1,166 | 10.4% | |
| Singh, Maneesh | Conservative | 1,154 | 10.3% | |
| James, John | Liberal Democrats | 306 | 2.7% | |
| Grassi, Emily | Green Party | 272 | 2.4% | |
| Scott, Luke James | Green Party | 217 | 1.9% | |
| Smart, Andrew | Green Party | 213 | 1.9% | |
| Bourke, Desmond | Liberal Democrats | 204 | 1.8% | |
| Bourke, Sean | Liberal Democrats | 177 | 1.6% | |
| Total | | | | |
May 4, 2018