A full slate of candidates across IBAF except for Brentford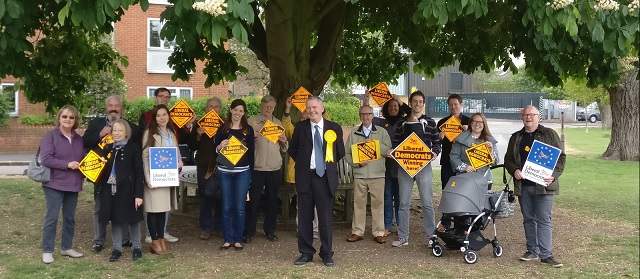 Hounslow Liberal Democrats are standing 47 candidates in the Hounslow Borough Council elections and a full slate of candidates across three of the four areas that make up the IBAF.

ISLEWORTH
Joe Bourke is a part-time Senior lecturer at University of West London and runs an accountancy practice in Hanwell. He has served on a number of executive boards both commercial and non-profit. Joe is passionate about delivering affordable private and social housing in the community and serves as an administrator for an All Party Parliamentary Group focused on land and housing issues.

Robert Thorpe works in IT and resides at Worple Road, Isleworth. He is concerned to safeguard public services, in particular at West Middlesex Hospital and schools like St Mary's, Isleworth, where cuts are forcing closure on Friday afternoons. Robert also wants to scrutinise the closure of Church Street and ensure that we have a joined up traffic management system that works for the entire community.

Henna Asghar has been an active youth campaigner with a strong interest in environmental issues. She wants to tackle issues of air quality around the Twickenham Road area in Isleworth and is concerned with the impact that a third runway at Heathrow will have on the area.
SYON
Phyllis Van der Esch is a resident of Brentford's market place area and has worked in the careers department of an inner London secondary school. Phyllis is keen to build on the Liberal Democrat achievements in coalition. With her eldest granddaughter attending primary school in Brentford, she wants to see that every child gets a fair start in life with smaller class sizes and more money targeted at those needing extra help in lessons.
Jack Ballentyne splits his time between life as a landlubber in Brentford and navigating the locks between Hanwell and Brentford on his river barge.
Steven Parker is a Liberal Democrat Activist who moved from Ealing to Hounslow Borough and joined the Liberal Democrats campaign to remain in the European Union.
OSTERLEY & SPRING GROVE
John James has contested Osterley & Spring Grove on a number of occasions. John is retired. He worked in tennis administration in this country and Europe and is president of Middlesex Tennis. An avid sports fan, John is a great believer in the power of sports to bring communities together and develop a sense of social cohesion.
Sean Bourke is a former student of Gunnersbury Boys School in Brentford and studied Mechanical Engineering at Brunel University. He works as a web-site designer based in Brentford. Sean wants to see more focus on youth facilities in Osterley and across the borough together with effective action to tackle anti-social behaviour. Sean is also concerned with respect for privacy in the use of personal data held by the council and other organisations.
Desmond Bourke graduated from Durham University with a degree in Anthropology. A former youth player with Brentford Football Club's centre of excellence, Desmond is keen to see attention given to the development of sports and recreation facilities in the borough and in developing parity between physical and mental health care services in Hounslow

BRENTFORD
Because they sat the first past the post (FPTP) voting system favours the two largest parties in Hounslow and penalises alternative parties, Hounslow Liberal Democrats have agreed to stand aside in Brentford Ward for this election.

Consequently, there will be no Liberal Democrat standing in Brentford ward and no Green Party candidate standing in Turnham Green ward in Chiswick.
April 13, 2018