For Brentford and Syon Wards
Brentford Ward Candidates
Myra Savin (left) lives in Brentford, raised her family here, and has lived in the ward for over 30 years. Her parents also moved here and have lived in Brentford for 24 years - so Myra is a passionate advocate for our area.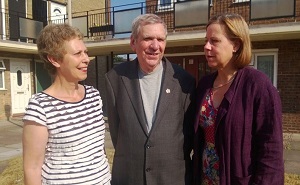 Myra has worked in education and the NHS, in community and public health in Hounslow and west London. She has served as a school governor locally, and is actively involved in a range of local and community groups. Myra will work to stand up for Brentford if elected as one of its ward Councillors on May 22nd.
email: Myra.Savin@HounslowLabour.co.uk tel: 020 8560 3460
Mel Collins (middle) Mel has spent all his life in Brentford and served the community in many ways all his adult life. He has been a Councillor for
16 years, is a governor of St Paul's school and supports a number of local charities. As a Councillor he has spoken out against proposed Accident & Emergency closures in neighbouring hospitals, particularly due to the impact they will have on West Middlesex Hospital. He has also led on getting much-needed improvements to Gunnersbury Park and the Water & Steam Museum. He has been an avid Bees supporter for 61 years and worships at St Paul's church.
email: Mel.Collins@HounslowLabour.co.uk tel: 07925 693 655

Ruth Cadbury (right) has lived in Brentford ward since 1985; with her husband Nick. They have two sons who both went to local schools. Ruth has been one of Brentford's ward Councillors for nearly 25 twenty years, achieving numerous improvements for local residents in her time on the Council. A professional town planner, Ruth has helped move forward the regeneration of Hounslow Town Centre and the coming regeneration of Brentford's shopping area. Ruth is also a keen cyclist, and enjoys running along the Thames and Canal-side paths locally.
email: Ruth.Cadbury@HounslowLabour.co.uk tel: 07976 528 496
Syon Ward Candidates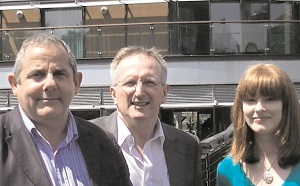 Steve Curran (left) has lived with his family in Brentford for the last 18 years. Steve has worked full time in the NHS as an Operations Manager for over 30 years and was elected to Hounslow Council in May 2010, representing Syon Ward. Steve was previously Chair of his local Residents Association, before becoming a Community Representative on the Brentford & Isleworth Area Forum. Since joining the Council, Steve has held two cabinet portfolios, first as Cabinet Member for Education & Housing and, in May 2013, Housing Regeneration & Planning. Steve is also Vice Chair of the Planning Committee and of the Enforcement Sub Committee; dealing with illegal dwellings and other planning breaches. Steve is passionate about ensuring that all of the community has a voice in how the Council is run and on the services it provides for residents
email: syon@hounslowlabour.co.uk tel: 07785 722 190

Theo Dennison (middle) lives in Brentford and has been a Syon Ward Councillor since 2010. He runs regular advice surgeries to help residents with problems, and has worked to improve customer services to the public in his time on the Council. Theo is married with a family – living locally, understanding problems like access to schools, and having experience as a Syon Councillor all ensure Theo is an effective champion for local residents. He will work to improve street cleaning, make public spaces safer and secure a better response to fly-tipping and graffiti if re-elected.
email: syon@hounslowlabour.co.uk tel: 07950 468 361
Katherine Dunne (right) lives in Isleworth. She has a background in scientific research and works at the National Physical Laboratory in Teddington coordinating international projects. Katherine is interested in environmental issues, poverty reduction, and women's rights. For Syon ward she wants cleaner, safer streets, a high street to be proud of in Brentford, and for residents' needs to be at the heart of every council decision.
email: syon@hounslowlabour.co.uk tel: 07764 758 644
Labour are fielding Sue Sampson, Ed Mayne and Lynn Green in Isleworth.
May 9, 2014