Council in the dock
Hounslow Council facing court action over the decision to close senior citizens' residential home
Hounslow Council will shortly find itself in the High Court over its decision to close John Aird House, the Brentford Residential Home for elderly people, and move the residents to other care homes.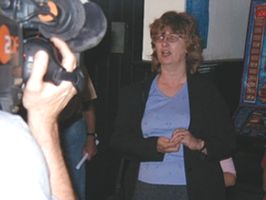 Yvonne Hoskings addresses the meeting - and German TV
The news was announced at a public meeting on Thursday night by Yvonne Hoskings, a solicitor who specialises in fighting for the rights of senior citizens whose health may be in danger if they are moved from their Residential Homes into alternative accommodation. The meeting was attended by local residents, councillors, residents of John Aird house and a film crew from German TV.
Four of the residents of the Green Dragon Lane care home are at severe risk if they are moved, according to one of the UK's leading consultants, Dr Peter Jeffreys. They will be represented in the High Court by Philip Havers QC, who in the past has worked on behalf of victims of the Southall Train Disaster and Diane Pretty, the motor neurone disease sufferer who sought a change in the law to allow her to end her own life.
Havers was keen to take the case and was ready to work pro bono. However legal aid has been granted, giving the legal team more resources in their fight to overturn the Council decision, taken earlier this year.
According to a council spokesperson the home is no longer able to provide first-class care.

"Unfortunately John Aird House simply does not have the space to provide the modern facilities necessary... It cannot meet the needs of many of the elderly people in the borough who require nursing care. We are doing everything we can to work closely with residents and their relatives to ensure that their preferences are taken into account in finding alternative care.''
Havers and his team will claim that the council are breaching the four residents' human rights by forcing them to leave John Aird House and thus putting their lives in danger. If successful, Hounslow Council will be forced to keep the care home open.
"I'm confident that we can win this case" Hoskings told BrentfordTW8.com. "But if we fail in the High Court we will go to the Court of Appeal and, if necessary, The European Court of Human Rights. It's vital for the residents of John Aird House, and elderly people everywhere, that we're successful."
The court case, which will begin in September, will cost Hounslow approximately £40,000.
21 Aug 2003
Become a member of BrentfordTW8.com - it's free
Comment on this story on the
John Aird House still faces closure