With the failure of England's so-called superstars becoming a distant failure, attention turns once again to domestic football. The fixtures for season 2004 - 2005 have been released and it is only a matter of weeks before Brentford kick off in the newly-named Coca-Cola League One.
The Bees kick off the season at Griffin Park on Tues 10th August when Doncaster are the visitors. However football fans can see action before then with two high-profile friendlies in July.
On Tuesday 20th AFC Wimbledon are the visitors. AFC Wimbledon were formed by fans of the 1988 FA Cup winners Wimbledon when their club was threatened with relocation to Milton Keynes in 2002 in a move that was condemned by football fans of most clubs. The nomadic club, who moved in 2003, were renamed 'Milton Keynes Dons' this week. It will be AFC Wimbledon`s first visit to a Football League ground.
The match further extends the friendly links established between both Clubs, largely as a result of the input from the Clubs` respective Supporters`Trusts and Independent Supporters` Associations. The proceeds from the gate will be split 50-50 between the Bees and the Dons.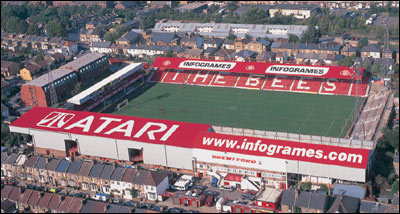 Learning is the goal at Brentford FC
Griffin Park one of safest grounds in country
Renewed optimism on plans for new stadium
Brentford FC announce plans for new stadium
BrentfordFC reveal further losses