Repairs to gas main have been causing local disruption
There have been delays and disruption around the Brentford area for the last fortnight due to emergency gas works on the A4 at the junction with Ealing Road.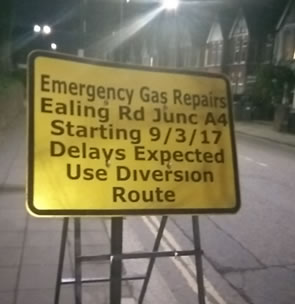 Work started on the 9 March and there has been confusion and many complaints about the lack of communication by the utility companies and TfL as to when it will end.
The number 65 bus has been on diversion from Ealing Road to Windmill Road and residents have listed some of the problems being caused: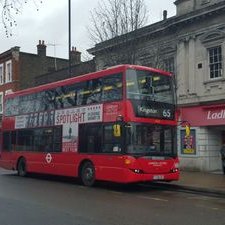 no temporary bus stop near the junction of Little Ealing Lane and South Ealing Road;
no temporary bus stop near the junction of the A4 and South Ealing Road;
passengers wrongly advised of arrival times because traffic info boxes on bus stops after the diversion are 11 minutes out of sync with buses;
bus drivers unsure about the diversion so are unable to advise passengers;
no info about the route change from drivers over the pa at the last bus stop before the diversion
the closed Chandos Avenue stop still being announced inside buses as the next available bus stop;
no announcements about the route being diverted (again) away from the A4 eastbound, and towards Brentford, southbound along Windmill Road.
A spokesperson for National Grid said, ''We are currently carrying out essential gas mains repairs in Ealing Road, Brentford. This work needs to be done to help ensure local people keep on enjoying safe and reliable gas supplies for cooking and heating. We're sorry for any inconvenience this essential work may be causing. Work is currently expected to continue until March 29.''
Local residents have reported that the work looks very close to conclusion and have expressed surprise at National Grid's expected date for completion.
Suspected gas escapes should be reported on 0800 111 999.
23 March 2017