Broncos to stay at Griffin Park
What does this mean for the football club's plans?
The London Broncos have announced a ground share deal with Brentford FC that will see the club play out of Griffin Park for the next five seasons. This will be the longest single tenancy agreement in the history of the club since its inception as Fulham FC in 1980.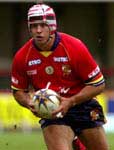 The Broncos arrived in Brentford at the start of the 2002 after spells in Twickenham and Charlton and this new deal will assure the Broncos remain in the one area for a seven-year period.
Plans are afoot to refurbish Griffin Park, and the club hope that work can start soon on executive boxes, extensions to one of the stands and a roof over the uncovered Ealing Road end.
Broncos CEO Nic Cartwright is delighted with this news: "London Broncos are determined to find a permanent ground for the club and whilst this deal remains a tenancy, we are very happy with our relationship with Brentford FC."
We will continue to work with Brentford towards providing the permanent stability that this club needs. This is the first step in that process. We know we need a permanent base, and we will continue to strive towards that goal. We do so many constructive things as a club in the community and as a business, and I know that given time, and the continued support of our many partners, we will start to see real growth in the next five years."
General Manager for Brentford FC, Roy King is also pleased with the tenancy renewal: "We're very glad to have secured the Broncos again. They are great partners, and their links with us enable us to improve the facilities, and the team budget. With the continued improvements planned at Griffin Park, we feel confident that both Brentford FC and London Broncos have a bright future together."
However, Brentford supporters are questioning the implications of this announcement. Many fans see the refurbishment of Griffin Park as a tacit admission that any new stadium at Lionel Road is a long way off, and the five-year timespan of this deal will do nothing to ease their fears.
Aug 13 2003
Become a member of BrentfordTW8.com - it's free
Comment on this story on the
Brentford announce plans for new stadium