Brentford FC announce plans to upgrade Griffin Park
Before moving to Lionel Road, Brentford FC are considering making ground improvements to the hundred-year-old stadium.

The new directors of Brentford FC are considering upgrades to Griffin Park whilst they wait for the planned move to Lionel Road to progress.
Potential improvements include the installation of lounges at the back of the New Road stand, a roof over the Ealing Road terrace - which would then revert to being the 'home' end - and extension to the terrace at the Brook Road end. There may also be changes around the stadium, using some of the land owned by the club for housing development.
The changes are designed to enable the club to increase its income on matchdays, said new director Doug White. The costs of building could be met from Football Trust grants.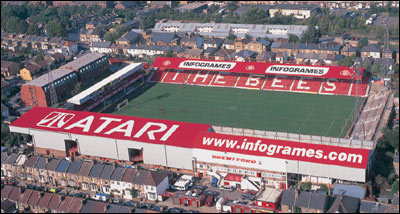 IN previous years plans to rebuild Griffin Park have been thwarted by the concerns of local residents, so the Club is taking a different approach this time around - which has been welcomed by local Residents Association Chair, Steve Curran. "In the past the Club told us what they wanted to do and didn't want to listen to our suggestions. The outcome of this was that the Club got nothing. I'm really pleased that the Club approached us about these plans".
Meetings with local residents and council officials will take place in July.
Most of the recent changes at Griffin Park have been behind the scenes. The Club is on course to become London's first community-owned football club, and supporters trust Bees United have a two-year option to purchase the controlling interest from Ron Noades' Altonwood Ltd.

17 June 2003
Become a member of BrentfordTW8.com - it's free
Comment on this story on the
Renewed optimism on plans for new stadium
Brentford FC announce plans for new stadium