Bees Café, 30s evening, swishing and more

The Bees Café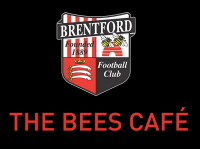 "The Bees Café", our venture in partership with Brentford Football Club and The Bridge to bring a Brentford FC -themed sports café to Brentford High Street is now entering its second month. If you hadn't heard already, the launch event was well attended at the beginning of March and the café is now open from 9am until 7pm every Thursday.

If you haven't yet come along to experience Brentford FC outside of a matchday, why on earth not??
GWQ "Back to the 30s" event

Here's a date for your diary. On Saturday 28th April from 3pm at Great West Quarter TW8, Events Management Students from The University of West London are putting on a 30's themed event, in aid of our partners Brentford Toy Library. The day will start with a fun-filled Punch & Judy show, juggling, balloon modelling and a magic show for all the family. In the evening, the 30's theme will continue to excite as the talented Jazz band Jogo and Singer will perform 30's and contemporary music. So if you're in the mood for a street party with a difference, get your glad rags on and enter into the community spirit of the event! Entry is £5 with Under 12's FREE.
---

Brentford Recycling Action Group "Swishing" Event at the Docking Station

If you thought "Swishing" was what you did to dirty laundry, think again! Swishing is the latest fashion craze and is described as "shopping without the financial hangover". On Saturday 28th April at Docking Station, we play host to Brentford Recycling Action Group (BRAG) as they organise a clothes swap for women with space in your wardrobe or with the urge to have a clear-out. Giving will start at Noon - 1.30pm and taking will start at 2pm - 4pm. Bring your good quality used clothes down and see for yourself what all the fuss is about!
---

Live Music at the Docking Station - 4th May

Brentford County Massive are the latest group to bring their sounds to Docking Station on Friday 4th May from 7.30pm courtesy of Helen Martin Productions. Described as a combination of Psychobilly and dark country punk, the event promises to be an alternative to your typical Friday night! You may have experienced their sounds at the recent event on Market Place. The event is £5 entry on the night with a licenced bar.
---

Help needed for a Fundraiser

Docking Station user Barry Smart has appealed for help from all friends of our organisation for support in raising £2000 to buy a specially adapted chair for his disabled sister. Barry and his family will be holding a special fundraiser on Sunday 6th May from 12 Noon at The Isleworth Spring Fayre on Wood Lane, Isleworth, TW7 5ED and would welcome any participation from fellow Docking Station users. If you'd like additional information about the event or would consider a donation to the cause, contact elliott@docking-station.org.uk for more information.
---

And finally... party booking prices frozen

The latest budget may have tightened your pockets even further, but your celebrations need not suffer. For the rest of 2012, we've FROZEN our prices on parties and celebrations at Docking Station. WIth kids' parties still at £11.95 per head for a 2-hour session including gaming and our Docking Station venue for hire at competetive rates for bespoke celebrations, we're still THE choice in Brentford for private venue hire. Get in touch today on 020 8560 6082 and one of our team will be on hand to discuss your party needs!
---