Thursday Pop-Up Café

In a unique partnership between Brentford Football Club, The Bridge (Developing People) Ltd and Docking Station, Brentford's high street hub is to host "The Bees Café" every Thursday from 9am – 6pm. The project has been supported by display signage specialist Octink, Hounslow Education Business Partnership and Chiswick Community School.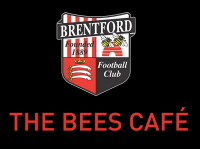 The Bees Café is a not-for-profit initiative allowing the people of Brentford to connect with their Football League club like never before. Through this initiative, young unemployed people who will staff the café will gain crucial skills and experience to better prepare them for work in hospitality and retail. As a 'pop-up' café, it will fit within Docking Station's already extensive events programme that includes yoga, live music and Brentford Toy Library's pop-up shop.
The café will act as a hub for people of all ages to immerse themselves in the proud history of Brentford Football Club. For people who have never experienced football as much as die-hard Brentford supporters; all are welcome to meet staff and players, enjoy freshly prepared food and drink, relive classic Brentford matches or create a piece of their own history by playing football video games on Xbox 360.
Brentford Football Club Chief Executive Mark Devlin said of the project:"The Bees Café continues to put Brentford FC at the heart of the local community and we hope will also contribute to energising Brentford High Street.
"The Bees Café will help train young people and get them into work in these tough economic times, whilst offering our supporters and the wider public a great new venue to socialise and immerse themselves in Brentford FC's proud history both on the pitch and in the community."
Docking Station, now entering its second year as a community hub for Brentford, is an organisation comprised of almost entirely voluntary staff, something which Project Manager and Brentford fan Andrew Dakers is keen to stress: "It's through the sheer dedication of our volunteer team that this project is now in a position to launch. We've been working closely with our partners at Brentford FC, Octink and The Bridge since the project was conceived almost seven months ago and I'm immensely proud of the tenacity shown by all parties to deliver this new community café."
Designing the look and feel of The Bees Café, local display specialist Octink worked with students from Chiswick Community School to create an environment both welcoming to customers and practical. Will Tyler, Chief Executive of Octink, said: "At Octink we continue to embrace innovative community projects through our Corporate Social Responsibility programme. Our work in the community is central to Octink's values.
"We were really impressed by the ideas that emerged in just a week from the Chiswick Community School product design students. A number of these ideas have made it through to the final fit-out design."
The café will be staffed by trainees who are currently unemployed and striving for a career within the hospitality sector. Marcia Wootton, Managing Director of The Bridge (Developing People) Ltd, who will operate the café said of the partnership: "We already provide our trainees with exposure to professional catering in a number of environments, but this will be an experience unlike anything they've ever been a part of. To be involved in this brand-new concept for Brentford FC and Docking Station is very exciting.
"I would encourage everyone out there, football supporter or not, to see our trainees in action and enjoy the food and drink that they have spent weeks perfecting - especially our much loved 'Bees Burger' that went down a storm in taste testing."
All surplus monies made through the Café will be reinvested in training and development of its staff.