Say no guards means no access for those needing ramps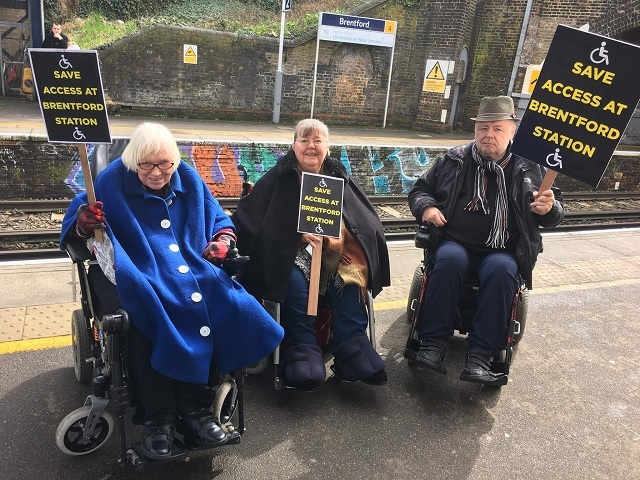 A group of campaigners are claiming that South Western Railway's plans to end its 'No Guard, No Train' policy will reduce disabled access at stations like Brentford. They are planning to hold a rally at the station to protest about the potential reduction in accessibility.
Brentford Station is one of the few step-free stations in West London. It is also unstaffed, so the guard currently gets out of the train, unlocks the ramp located on the platform, or gets the one from inside the train and positions it for wheelchair access.
South Western Railway wishes to end the requirement to have guards on all trains as a service is currently not able to run if a guard is not available due to absence of a previous train being delayed. They say this has significantly reduced the reliability of the service and that while they would continue to roster a guard on all trains they want to allow a train to run even if one is not available. They argue driver operated only train services have operated safely in other parts of the country.
Sally O' Connor (pictured in blue above) said "I have been using Brentford Station since it became fully accessible in 2009 when I first started using an electric wheelchair outdoors. I will not be able to use the station without being sure I can get on the train, so soon it will no longer be an option, which makes me very sad."
For many this will add uncertainty to their journeys, visiting the Southbank with all it has to offer, to getting to work, and will mean an end to the right to turn-up-and-go like everyone else.
"Save Access at Brentford Station" is a disabled people's campaign for continued access at rail stations. They are calling for a local rally at Brentford Station between 10-11am on Wednesday 18th April before a larger RMT demonstration at Waterloo station at midday.
The RMT is also staging an event in Westminster on April 25 to mark the second anniversary of the guards' row, which started on Southern Railway.
Hounslow have recently allocated Community Infrastructure Levy money to make step free access at Syon Lane station.
RMT General Secretary, Mick Cash said, "RMT warmly welcomes the campaigning initiatives being undertaken by disability campaigners on Wednesday 18th April in support of equal access to rail services for all and the guard guarantee on South Western Railway.
"No one knows the reality of the impact of the removal of the guard guarantee better than organisations like the Save Access at Brentford Station group and South Western Railway should be prepared to send their top managers down to meet them at Brentford Station to listen to their concerns.
"It is frankly scandalous that members of our communities are set to be denied the same rights as the rest of us – the right to turn up and go on our trains."
Read an impartial observation by an Ipswich supporter travelling to Brentford for a football match recently on the complications of wheelchair access, even with a train guard.
Find Save Access at Brentford Station on Facebook.
April 13, 2018