Julia Tyson volunteers for Diabetes UK
Participate
On Facebook diabetesuk On Twitter @diabetesuk
Diabetes UK 10 Parkway, London NW1 7AA
Diabetes UK is the leading UK charity that cares for, connects with and campaigns on behalf of all people affected by and at risk of diabetes.
Sign up for our free newsletter

Comment on this story on the

A Brentford woman who campaigns tirelessly for better diabetes services in Hounslow and further afield has won two volunteering awards from the charity Diabetes UK.
Julia Tyson won the Campaigning and Raising Awareness Award at the charity's regional Inspire Awards, held in central London. She then went on to win the prestigious Volunteer of the Year award.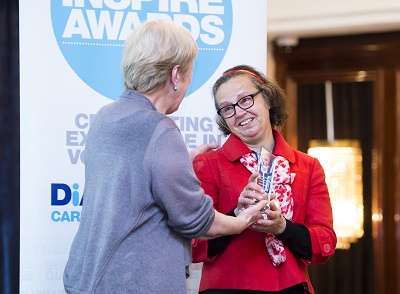 Julia helps Diabetes UK run its Know Your Risk roadshows - which encourage people to have a diabetes risk assessment - and has completed almost 500 risk assessments herself to date. She also helps out every week on an information stand at the Heart of Hounslow Medical Centre as a member of the Diabetes UK. She is trained to give talks about fasting in Ramadan and has raised awareness of diabetes risk within the Muslim community. She is also a Community Champion going into harder-to-reach communities to raise awareness of diabetes.
Roz Rosenblatt, London Manager at Diabetes UK, said: "Julia helps us out three or four times every single week - she is tireless and dedicated and we are very grateful. She is a very hard worker - and she has a wonderful warm smile which puts people at ease.
"The Inspire Awards are a great opportunity to thank our fantastic volunteers for their hard work helping to support people with diabetes. There are more than 400,000 million people living with diabetes in London, and dedicated volunteers like Julia help them to manage their condition, campaign to improve the quality of care available to them, fundraise for pioneering research and work to stem the rising tide of diabetes. Our volunteers are our army on the ground working hard in their communities. Our much-needed work wouldn't be possible without their incredible support.
"We are also working with Hounslow CCG to improve care in the borough where more than 19,000 people have diabetes and a further one in four people are judged to be at high risk."
Julia said: "Helping Diabetes UK and people with diabetes is my mission and whatever I do I still don't think it is enough as the need is so great."
To find out more about becoming a volunteer for Diabetes UK or to join a local support group, please email london@diabetes.org.uk.
June 10, 2015