Raise a glass and celebrate his life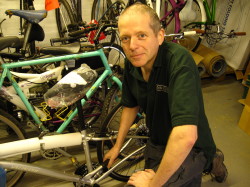 Tributes are pouring in following the news of the sudden death of Ealing and Brentford's well known cycle man, David Eales.
His daughter, Joanne, made the sad announcement that he had died after a short illness on Facebook : ''To our wonderful Dad, I really hope you know how truly loved you were. Rest in peace and be assured you will live on in all of our memories forever. Missing you with all our hearts xxxx''
David has been a passionate advocate for cycling and at the forefront of many local intiatives, including the Ealing Cycling Campaign, Hounslow Cycling Campaign and the London Bike Hub.
He got into cycling later in life on the advice of his doctor in a bid to help his back pain, and said it changed his life. Cycling became a real passion and he used it to help many men, women and children throughout West London onto two wheels, building novice's confidence with his gentle manner.
Joanne invites those of you who knew her father to join her in The Fox:
"Hi everyone,
Thank you all for the wonderful messages and posts you have sent over the past couple of days. They have been really lovely to read and made us feel so proud to have a father who was so appreciated and well-liked by so many friends and the community as a whole.
"We would love for you all to come to the beer garden of The Fox pub (Green Lane, W7 2PJ) on Thursday 1st September from 5.30pm onwards. This was one of David's favourite pubs and it would be great to hear a few jokes and stories about him and raise a glass in his memory.
"Please do you not feel you have to dress formally. David was most comfortable in cycling gear or a London Bike Hub t-shirt so please feel free to come down wearing whatever you like.
"We will also be setting up an online donation page in David's honour for the Burns Unit as Chelsea and Westminster Hospital who made his final days so comfortable and a charity which funds research and support into the illness he died from.
"This really is an open invitation so please do not hesitate to share this invite to whomever knew David and wishes to come".
We offer our condolences to David's family and friends.
August 26, 2016