Last chance to have say on planned revisions of cycle path near Kew Bridge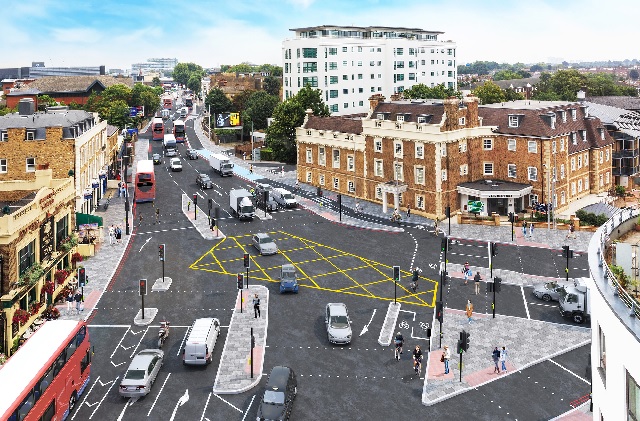 New design for CS9 near Kew Bridge
Transport for London's (TfL) consultation on revised plans for Cycle Superhighway 9 is ending shortly.
If you want to have your say on the new designs for the sections of the segregated cycle pathway around the junction with Duke Road and Dukes Avenue and along the South Circular just north of Kew Bridge you need to submit your response by Tuesday (26 February).
TfL are not consulting on the scheme as a whole at this point just these two sections but the new plans have proved as controversial as the original proposals which attracted overall support but were opposed by most people living in the Chiswick area.
In an attempt to overcome these objections two significant alterations were made to the original design including around the Kew Bridge area and in the centre of Chiswick.
The proposal is now to create a new two way segregated path on the stretch between Kew Bridge and Wellesley Road. At Kew Bridge and throughout Kew Bridge Road, the new designs would provide two-way segregated cycle lanes on the south side of Kew Bridge Road and South Circular Road, rather than the partially segregated cycle tracks on both sides of the road that were proposed in the earlier consultation designs. This change will ensure that people cycling are fully segregated from traffic throughout this section and it also removes the requirement for two bus stop bypasses. The change also addresses concerns raised about cycle safety at Kew Bridge junction, Green Dragon Lane and Lionel Road South. The new consultation will also propose a second southbound traffic lane on Kew Bridge to improve the efficiency of the Kew Bridge junction. In addition, the changes will make crossings wider, with cyclists signalled separately from conflicting traffic at the Kew Bridge junction.
Hounslow Cycling Campaign welcomes the new design in this area with some caveats. They like the fully-protected bike track on the South Circular and the better crossing for pedestrians. However, they believe the changes on Kew Bridge make some journeys worse for pedestrians and cyclists and say an attempt to improve journey times for motor traffic is being done at the expense of people walking and cycling.
Construction on the route is planned to start later this year subject to formal approvals by Hounslow and Hammersmith and Fulham councils, with the route expected to be complete in 2021.
Responses can be submitted online at tfl.gov.uk/kew-duke, by post to FREEPOST TFL CONSULTATIONS or by e-mail to consultations@tfl.gov.uk.
February 22, 2019