Brentford herbs are brilliant according to Observer Food Monthly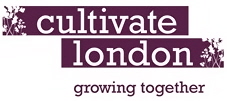 An innovative urban farm in West London, Cultivate London, has scooped the Producer of the Year award in the prestigious 2012 Observer Food Monthly Awards for its high quality organically grown produce.
Cultivate London converts derelict land across West London into productive food growing space and offers training and jobs in practical horticulture to unemployed young people. Its urban farms in Brentford Lock and London Road, Isleworth grow organic herbs, vegetables and flowers for sale to London homes, restaurants and shops.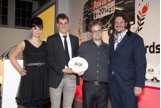 The award was presented to Cultivate London growers Ben Simpkins and Sean Connor by Gizzi Erskine and celebrity chef Jay Rayner at an awards ceremony at Victoria House in London on 18th October.
Adrienne Attorp, General Manager of Cultivate London, says: "We are thrilled to win this award, and to be singled out by expert judges who are immensely knowledgeable about food is a great honour. Most of the young people who work on our sites are new to horticulture when they join us and this award also recognises their great efforts."
Sean Connor, 21, who joined Cultivate London in 2010 as a volunteer and is now a full-time junior grower with the organisation, is also thrilled:

"When I found out that we had been nominated for the award, most of us didn't think we had a hope of winning it because we thought there would be a lot of London 'big boys' also nominated. But we took our herbs along to be judged anyway – cut on the day as we always do, so we could give them the best tasting and looking stuff possible.

When I heard that we had won it I was shocked, but very excited. The idea of going to the awards ceremony was daunting at first but we had a great time in the end, and the party was GREAT!!!
I can say from the whole team at Cultivate London that we are very thankful to be given this award and look forward to see where this will take us."
Now in their ninth year, the Observer Food Monthly Awards celebrate the best in British food and produce. The Producer of the Year was selected by an expert panel of judges including restaurant critic Jay Rayner, Michelin-starred chef Angela Hartnett and popular food writer Nigel Slater.
For more information visit www.cultivatelondon.org.
October 26, 2012