Can Lead to Work Placements, Paid Employment and Qualification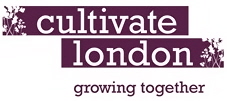 Cultivate London offers the following outcomes for young people:
Step 1: Volunteer Trainee
• Practical work experience on an operating urban farm
• Learn to grow plants from seed, harvest and package herbs and vegetables for customers, track stock and equipment, health and safety issues, manual handling, safe use of tools and horticulture equipment
• Volunteer Trainees are provided with steel capped boots, gloves and other protective clothing & equipment as necessary
• Lunch is provided each day on site and travel to and from site is reimbursed
• Trainees are to complete 10 hrs volunteer over 10 weeks to move onto next step

Step 2: Work Placement
• In order to continue building skills, knowledge and experience, Volunteer Trainees are placed with other companies for at least one month once they've completed their traineeship.
• Companies include The National Trust, Edible Crates and Olivers Wholefoods Store.
• Trainees on work placement will be supported to look for paid employment and provided with help to prepare for interviews
Step 3: Paid Employment
• Cultivate London offers two apprentices each year to young people who've completed their volunteer traineeship. Apprentices work 28 hour per week and are paid an annual salary of £8,634. They will complete a Diploma in Practical Horticulture at Caple Manor College in Gunnersbury
•We also offer seasonal paid work opportunities with other companies to young people who've completed their Volunteer Traineeship
What is Cultivate London?
Cultivate London is a new urban agriculture business based in the London boroughs of Ealing and Hounslow with two main objectives:
1. To provide work experience, training and employment in horticulture to young unemployed people aged 16-24
2. To convert derelict land into food growing space and increase the amount of locally-grown food purchased by Londoners

Where does Cultivate London operate from?
The Cultivate London's office is located at 8 Dean Court, Bowmans Close, West Ealing, W13 9YU. However, most of our work is done out of the office and on growing sites. Currently, we're growing herbs and vegetables on two different sites:
• top of East St (next to mechanic garage), Brentford, TW8 8LR
• 689 London Rd, Isleworth, TW7 4ES

How can Cultivate London assist young people?
Cultivate London provides young people with work experience, training and
jobs in the horticulture sector (see next page for more detail). Eligible young
people must:
• Be aged between 16-24 years
• Not currently be engaged in education, employment or training
• Be a resident in the London Borough of Ealing or the London Borough of Hounslow
• Be motivated and willing to volunteer for 10 hours per week for 10 weeks
• Be willing to work outside and as part of a team

How does a young person become involved with Cultivate London?
If you're interested in becoming involved or want more information, please contact Leah McPherson at leah.mcpherson@e-bcc.org.uk on 0795 648 7257 to organise a time to come to site and try your hand at horticulture. If you like it, we'd love to see you
again. It's as simple as that!
When do positions begin?
We are looking to recruit young people as Volunteer Trainees now.
August 16, 2011