Brentford and Isleworth men involved in selling drugs in Aldershot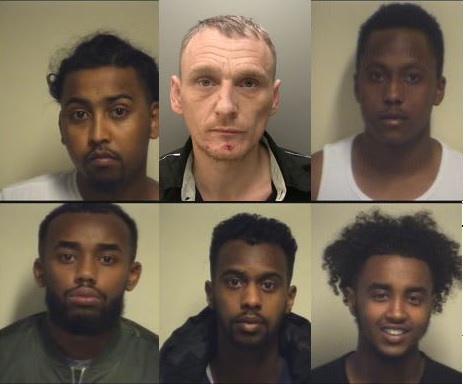 Top L-R: Jama, Parkinson, Ali. Bottom L-R: Farah, Mohamed, Shawqi
Members of a local gang who were running a 'county lines' type operation have been jailed for a total of 35 years.
The so-called "Smithy Syndicate" was responsible for bringing more than a kilo of Class A drugs into Aldershot. The police are increasing identifying cases in which urban drug gangs target suburban areas as soft targets to base their drugs operation.
The gang set its sights on Aldershot in August 2016 and over six months operated a concerted and intimidating network that supplied crack cocaine and heroin from the capital, targeting the town's most vulnerable people.
That network is in ruins thanks to an extensive police investigation that has spanned almost two years.
On Friday (27 July) the gang's six members, five of whom were from Hounslow borough, have been sentenced at Winchester Crown Court, having been charged with conspiracy to supply Class A drugs.
Three pleaded guilty including 24-year-old Ahmed Ali Jama of Field Land Brentford who was jailed for four years and eight months. The other three were all found guilty including Majid Ali, 20 of Fernymeade Way, Isleworth after a second trial who was sentenced to three years.
Jama was identified as one of the main organisers operating drugs lines through a dedicated phone number.
Extensive investigations by officers centred around detailed analysis of telephone evidence and CCTV to build a case.

Travelodge, Alexandra Road, Aldershot (Google)
Jama and Ali were the first of the gang to head to Aldershot on August 6, 2016, getting names of Class A drug addicts to build their network. For the first day they operated from the Travelodge in Alexandra Road in the town, heading out to complete deals with local addicts.
However, within that first 24 hours officers had already arrested one of them Ali in the Municipal Gardens in Aldershot and he was charged with conspiracy to supply Class A drugs after drugs were found in his Travelodge room.
The court told how this led to the other two returning to London, however it was not long until they were back, returning on August 16 with two other members of the gang to re-start the drugs line which operated on an almost daily basis for three months but after that their activity became less frequent.
The investigation showed that on most days they operated the line remotely from London, using runners in Aldershot to deliver the drugs.
As the investigation into Ali's arrest continued to look at who was staying with him at the Travelodge, police arrested one of his associates, Omer Shawqi from Feltham, on September 12.
The court was told that 39-year-old John Parkinson of Camberley was introduced to Mourad Mohamed from Hounslow in October 2016, and his home was used as a base for the network to operate from and he began to run drugs for the gang.
Further investigations into the Travelodge led to DNA evidence that identified Jama and he was arrested in late November.
When Mohamed Abdiaziz Farah from Hounslow tried to re-establish the ailing drugs line that revealed the link between Shawqi, Jama and Ali to the so called 'Smithy Syndicate'.
It was their own runner, Parkinson, who provided the final blow, calling police because he was being threatened as they tried to force him to use his home as a base once again for their drugs operation.
This led officers of both Farah and Mohamed and both were arrested on suspicion of conspiracy to supply Class A drugs in February 2017. Parkinson was arrested a month later.
When sentencing them, Judge Evans QC said this was a "substantial operation".
Farah was jailed for nine years, Shawqi was jailed for seven years and four months, Jama was jailed for four years and eight months, Mohamed was jailed for eight years and Ali and Parkinson were both jailed for three years.
DC Matt Dennis said,"This was a lengthy and complex investigation that focused on members of a London-based syndicate.
"Most of those involved would travel to north Hampshire to deal heroin and crack cocaine, often to vulnerable people who were dependent on these substances.
"This case demonstrates that we are committed to identifying and tackling those groups that bring so much harm and misery to our towns and cities.
"Within 24 hours of their arrival in Aldershot, we had already arrested one of them and this vital intervention ultimately led to the downfall of their operation.
"I hope this comes as reassurance to those living within these communities and gives residents the confidence to contact us with any concerns regarding drug dealing in their neighbourhoods."

August 3, 2018