Fight broke out after house party in Boston Manor Road
Two men have been jailed who stabbed and seriously injured another man after an argument at a house party in Brentford.
Jordan Rodney, 22, of Perth Close, Northolt was sentenced to 16 years' imprisonment for the attempted murder of the (then) 22-year-old victim in Boston Manor Road on Saturday, 30 July 2016.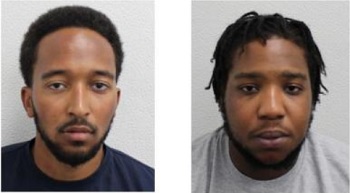 Lasme and Rodney
Ross Lasme, 22 , of Eastmead Avenue, Greenford was sentenced to seven years' imprisonment for GBH with intent on the same victim.
The pair had been found guilty of the respective offences and were sentenced on Friday, 10 February following a trial at Blackfriars Crown Court. They were convicted following an investigation by Hounslow Borough CID.
The court heard how on Friday, 29 July 2016 the three men had gone to a house party in Boston Manor Road. While there, an argument occurred which led to all three being thrown out in the early hours of the following morning.
Outside in the street a fight began and the victim suffered multiple stab wounds. Despite being discharged from hospital the victim continues his recovery.
Police in Hounslow soon identified the suspects and Lasme was arrested on 30 July 2016. In his interview he gave a pre-prepared statement saying he didn't do it, and that Rodney would admit it when he was interviewed. Lasme didn't answer any further questions. When Rodney was arrested the next day, 31 July 2016, he gave a no comment interview. He was charged the next day, 1 August 2016, with attempted murder. Lasme was initially bailed but charged similarly on 4 August 2016.
At trial the pair changed their defences each blaming the other defendant for the stabbing.
In the end the jury found Rodney guilty of attempted murder. Lasme was found not guilty of attempted murder but found guilty on alternate charge of GBH with intent.
DC Shakti Banger, who led the investigation for Hounslow CID, said, "This was a complex case and as a result of detailed investigative work we have achieved the appropriate outcome.
"Violent crime will not be tolerated on the streets of Hounslow and these convictions show that through dedicated and tireless police work we will bring offenders to justice."
February 17, 2017