Cranford man assaulted woman on 111 bus
Govinder Guru, aged 56 of Cranford Lane, Hounslow was sentenced to six months imprisonment for sexual assault at Uxbridge Magistrates' Court on Wednesday, 15 June. He was also put on the sex offenders register for seven years. He had pleaded guilty to the offence at a hearing in March at the same court.
On Saturday, 30 January, at approximately 11pm, a 20-year-old woman boarded a route 111 bus on Cranford Lane, Hounslow.
Guru, who was already on the bus, engaged the woman in conversation. He then sat next to her and started to touch her. The woman pushed him off and alerted the bus driver. Guru then quickly got off the bus and left the scene.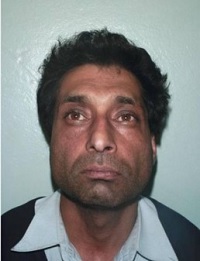 Govinder Guru
Following the incident, officers from the Met's Road and Transport Policing Command launched an investigation and obtained on-bus CCTV, which led to Guru's identification. Officers attended his home address where he was arrested for the offence on 19 February.
Detective Superintendent Adnan Qureshi, of the Met's Roads and Transport Policing Command, said: "This was an excellent result, which has seen a perpetrator of a disgusting, sexually motivated offence receive time in jail and entry onto the sex offenders register.
"Guru acted in a wholly predatory manner and took advantage of a passenger, but his vile actions have led to his confinement and on his release he will be under police scrutiny.
"I urge anyone who experiences any kind of assault or unwanted sexual behaviour, to report it to police immediately as it can help us target the perpetrator and prevent it happening to another passenger.
"If you commit an offence on London's transport network, we will pursue you and arrest you. We will get those responsible."
Steve Burton, TfL's Director of Enforcement and On-Street Operations, said: "The sentencing of this vile perpetrator sends a clear message that we will not tolerate any form of sexual behaviour on our bus network and will push for the strongest penalty for those caught. We take all reports of unwanted sexual behaviour seriously and encourage anyone who experiences anything that makes them feel uncomfortable to report it to the police. Our customers have the right to travel in safety and we are determined to ensure the transport network remains a safe environment for all."
June 23, 2016