Group robbed drug dealers in Hayes

MAC-10 machine gun found in footwell of car

Hamza Jama, aged 20 of Greenlawn Lane, Brentford, was sentenced to a total of 16 years - eight years for conspiracy to rob, six years for conspiracy to possess cannabis with intent to supply and 16 years for possession of a MAC-10 with intent to endanger life, all to be served concurrently.
Naureen Rashid, of Fletcher Road, Chiswick has been sentenced to six years in jail for her part in a planned robbery of drug dealers. A loaded automatic pistol was found in the footwell of a car she was driving.
Along with two accomplices who armed themselves with the MAC-10 machine gun, the 49-year-old woman launched a raid on cannabis dealers at a residential address in Botwell Lane, Hayes on 19 April 2015. She was the getaway driver and waited in a car outside the address whilst Aseebullah Noori and Hamza Jama carried out the robbery.
In an operation led by the Trident and Area Crime Command, an armed stop was carried out on their VW Passat on Ruislip Road. A search of the car revealed nine kilograms of cannabis, with a street value of £58,000. Police also discovered the MAC-10 machine gun along with cable ties and duct tape. Noori initially evaded arrest but was eventually detained earlier this year in Holland.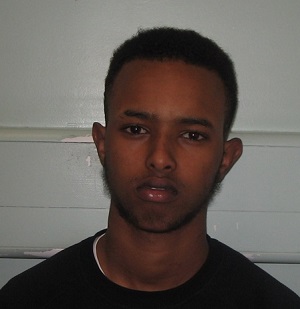 Hamza Jama, of Greenlawn Lane, Brentford
Detectives subsequently searched three residential addresses - one on Greenlawn Lane, Brentford, from which they recovered ballistic body armour; one on Fletcher Road ; and one on Cedar Grove, Ealing.
Police were able to trace where the MAC-10 had originated from immediately prior to the offence. Two days later, they observed a man called Yaqub Mohamed delivering a shotgun to an address in Gresham Road, Hounslow, which was controlled by Sizwae Dube. Mohamed was detained and a Berreta, ammunition and a stun gun were also recovered from the address. Dube was arrested shortly afterwards.
Naureen Rashid, was sentenced to six years for conspiracy to rob and possession of cannabis.
Noori, aged 24 of Cedar Grove, Ealing, was imprisoned for 11 years having admitted at an earlier hearing possession of a MAC-10 with intent to endanger life.
Dube, aged 23 of no fixed address, received a total of 21 years after pleading guilty to possession of ammunition, possession of the Berreta, possession of a stun gun and possession of a sawn-off shotgun. He was found guilty of possessing the MAC-10 with intent to endanger life.
Mohamed, aged 22 Holdernesse Close, Isleworth, admitted transferring a prohibited weapon, namely the sawn-off shotgun, and was jailed for five years.
Detective Inspector Tim Grinsted, who led the operation said: "I am very pleased with the sentences passed by the court which reflect the severity of the offences.
"Three guns, including a machine gun, have been removed from the streets of London along with five people prepared to put their financial gain over the safety of our communities. This case demonstrates the Met Police and Trident's relentless efforts to deal with armed criminality and should serve as a warning to others considering similar criminal ventures."

June 23, 2016