A different kind of fly tipping
Participate


Contact Information:
Police Sergeant Ehab Al-Hashimi
PC Navneet Johal and PCSO Faisal Puttyraj
Brentford Safer Neighbourhood Team (SNT)
Brentford and Chiswick INPT
Safer Neighbourhood Team
Chiswick Police Station
209-211 High Road
Chiswick
W4 2DU

brentford.snt@met.police.uk
Office tel: 020 8247 6415
or 020 8247 6483
Mobile tel: 07881723891

In an emergency ALWAYS dial 999
For all NON emergency calls use 101
If you have no mobile signal, 999 will NOT work but 112 will put you straight through to the emergency services.
Policing Pledge (pdf)
Sign up for our free newsletter

Comment on this story on the

A Twickenham beat officer patrolling her local ward followed her nose and stumbled upon 16 laundry bags filled with cannabis that had been dumped in the street.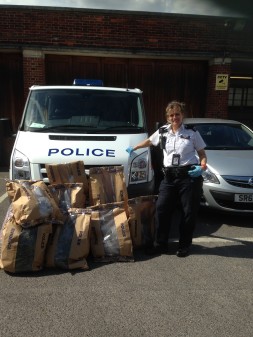 PC Vanessa Figg, who was on patrol in West Twickenham ward with PCSO Azelerab Jedid, were walking along Selkirk Road at approximately 11:00hrs on Tuesday, 23 June when they saw a number of laundry bags dumped in the street.

PC Figg said: "Initially I thought this was someone fly tipping. I began to look into the bags to see if there was any name and address within the bags to ascertain the offender.

"However, once I had opened the first bag I could smell the overwhelming whiff of cannabis."

A search of the bags revealed a large amount of dried cannabis leaves, rotting cannabis, gloves and facial masks.

A further patrol of nearby Chertsey Road revealed ten more blue, white and red laundry bags - the same as the bags found in Selkirk Road. These were searched and more cannabis leaves were found along with a halogen bulb, gloves, masks, air fresheners and vacuum bag packets.

Inspector Rhiannon Ivens from Richmond Police, said: "It took Vanessa and her colleague more than two hours to bag the 25 plus exhibits. It just shows you never know what you may find when out walking the beat!"

Enquiries continue to establish where the cannabis came from.

If you have any information please contact Richmond Police on 101 or if you wish to remain anonymous call Crimestoppers on 0800 555 111.