Six members of staff, who all worked as ticket-office clerks at Richmond station were found guilty, with sentences from nine to 18 months.
Julia Cann, 33, of Trimmer Walk, Brentford, was sentenced to nine months after being found guilty of conspiracy to commit fraud.
An investigation revealed several members of staff had been defrauding the ticketing and Oyster card system. The gang's activities came to light in October 2012 after investigating an anomaly in accounting systems.
Fraudulent cards were being sold illicitly to unsuspecting customers while the staff pocketed the cash, in what was described as a 'sell one get one free' scam.
They were arrested when evidence emerged they had also been taking advantage of the till systems in order to create and use illicit travel cards which were found in locations including their home addresses.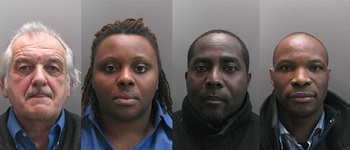 Detective Constable Becci Crampton said: "Between them, these people had more than 50 years service with South West Trains, yet they chose to throw that away for the sake of greed.
"Throughout their trial, they denied any responsibility for the fraud, claiming the irregularities had been caused by technical faults with ticket machines. Thanks to the hard work of our officers, South West Trains and Transport for London, we were able to prove this was a lie."