New access point three days a week on Green Dragon Lane
The Isleworth Society decided on community action when last week they filled the two neglected planters outside Isleworth Library with winter-flowering plants.
Rosemary Bunce, speaking on behalf of TIS, said "for over a year now we have been requesting Fusion to undertake planting and maintenance of the two planters outside Isleworth Library, numerous e-mails have been sent to them and we have even had site meetings with their representatives. Unfortunately all to no avail as the planters remained full of weeds and the area outside the library looks run-down and unkempt. So we decided on taking community action in the hope that it will encourage Fusion into maintaining what they are contracted to maintain."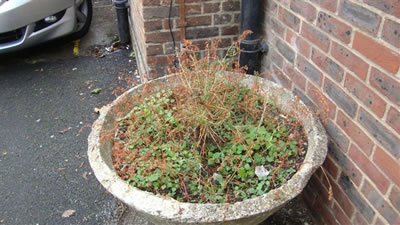 The desolate state of the planter previously
"Obviously Hounslow Council is not adequately monitoring its contract with Fusion otherwise our action wouldn't have been necessary. We did the same thing with the two horse-troughs in Isleworth which for years held only dirt and weeds. Eventually, our planting of the troughs finally encouraged Hounslow to ensure they are planted on a twice-yearly basis and we hope our planting of the library planters will not only enhance our environment but deliver a strong message to Hounslow Council to monitor their contracts properly".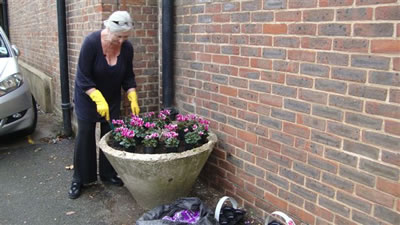 The planter in full bloom after The Society intervened
August 29, 2013