Torron-Lee Dewar of the Alliance Dance Unit collected honour at Westminster
23-year-old Torron-Lee Dewar was at the Palace of Westminster earlier this month to collect a British Citizen Award.
Torron founded the Alliance Dance Unit, which currently is based in the Rose Community Centre, when he was just 16.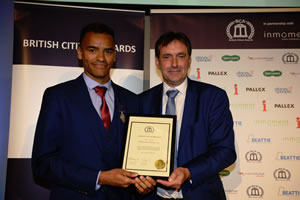 Torron-Lee Dewar receives his award
He said, 'It's overwhelming. It's up there with getting to carry the Olympic torch (in 2012). It's great to get such recognition for everything we've striven to achieve over the past few years. Dance kept me out of trouble when I was young'
It is not the first award he has been given for his work. He was nominated for this one by two of his students and received it for services to the arts.
The Alliance Dance Unit has around 100 members and has competed at the XXL Streetdance UK Championships. It used to be based at the Watermans but moved about a year ago to the nearby Rose Community Centre. The current premises are not ideal and Torron is hoping to hear from anyone who may be able to assist in finding a more appropriate location.
Mr Dewar says the current premises are not ideal for dance, and the group is still seeking a more suitable venue and wants to hear from anyone who might be able to help.

July 22, 2016