Help Plan the Borough's Future (deadline 7th October)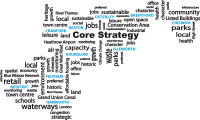 Do you think there is enough family housing in the borough? Are new buildings in keeping with the character of your local area? Do you want to make sure local green spaces are preserved?
These are the types of issues that are affected by planning decisions, and the council is inviting local people and businesses to have their say on how these decisions will be made in future.
The Hounslow Core Strategy is a planning policy document that will be used by council planners when deciding whether or not to approve planning applications.
It sets out a number of objectives for proposed developments, to help make sure planning applications are meeting the needs of the borough.
The first stage of consultation on the Core Strategy, the Issues and Options, was carried out between May and September 2007. The Council consulted local people on a wide range of issues and options about what they would like to see in the borough in the future.
The Preferred Strategy is the next stage in the process of developing a Core Strategy; and we are now seeking your views. The Core Strategy covers the entire Borough will contain a number of objectives, which include:
Regenerating our town centres as the heart of our communities, retaining more local spend in our economy, and improving local service provision.
Providing an environment conducive to new business with opportunities for socialising in an attractive environment to help stimulate new economic investment
Providing a variety of housing including affordable housing, aspirational family homes, and high quality provision for the elderly
Improving the appearance of the borough and the quality of life for our residents through regeneration, high quality of design and the promotion of local character.
Reducing carbon emissions, pollution and managing flood risk
Promoting more sustainable and active travel modes to reduce emissions and to encourage healthier lifestyles.
Ensuring that the provision of community facilities such as schools and local shops are seen as a positive reason for living in the borough.
Promoting and improving our green spaces and heritage assets
Cllr Ruth Cadbury, Hounslow Council's deputy leader said: "The planning system has the potential to make a significant impact on an area – not just the physical appearance, but to things like crime, jobs and health.
"Once something is approved and built it can be there for generations. That is why we need to make sure that when we are making these decisions, we take account of the potential impact in a range of ways.
"By giving us their views on the Core Strategy, people can help us to make sure we are thinking about the issues that matter to them."
The Core Strategy will identify areas of the borough for protection or improvement such as open space and land which could be used to create jobs. It will also identify future areas for housing growth and identify potential sites for new schools.
A consultation on the proposed strategy runs from 29 July until 7 October. To read and respond to the Preferred Strategy and the accompanying Sustainability Appraisal please download the documents and response form at www.hounslow.gov.uk/core_strategy
Documents are also available in hard copy at the Civic Centre, in your local library, and will also be discussed at local Area Committees in September.
The council will then review the responses received and publish a revised document in Spring 2012 for submission to the Secretary of State.
For further information or to respond to the consultation please contact:
Planning Policy, Sustainable Planning
London Borough of Hounslow
Civic Centre
Lampton Road
Hounslow
TW3 4DN
Tel: 020 8583 5202
E-mail: ldf@hounslow.gov.uk
August 1, 2011