Celebrates achievements of the Community Sports Trust
Participate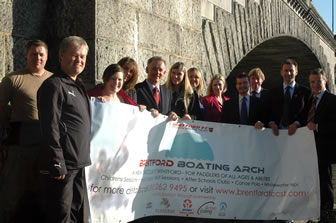 Mary Macleod with Jeremy Hunt MP, Shadow Secretary for Culture, Media and Sport at the Kew Bridge Boating Arch with the Brentford FC Community Sports Trust team
Sign up for our free newsletter

Comment on this story on the
Mary Macleod, the Conservative Parliamentary Candidate, joined some two hundred and fifty people at the new Audi centre in Brentford last week to celebrate the achievements of the Brentford Football Club Community Sports Trust over the last two years.

"Brentford FC Community Sports Trust started out as a football-based charity and they now offer some 27 different sports and other educational activities to more than 27,800 children in the area. They have achieved so much over the past two years with 179 projects currently across health, social inclusion, education and sports participation. I wish them all the best as they continue to develop this extremely worthwhile work in our community", Mary said.

Mary saw firsthand some of the activities being undertaken by the Brentford FC Community Sports Trust when she visited Brentford FC recently with Jeremy Hunt MP, Shadow Secretary of State for Culture, Media and Sport. She saw several examples of the work that is done in the community, including local schoolchildren enjoying their kayaking lesson at the Kew Boating Arch.

Mary says, "The work that the Brentford FC Community Sports Trust is an inspiration to others. They have shown real leadership and commitment to working within the local community and making a difference to young people by giving them opportunities to develop and learn. I am keen to support the work they do…and was also thrilled to watch The Bees take a point from the mighty Leeds United last weekend at Griffin Park!"
December 18, 2009