Thirty years in education for the Blue School's Helen Langley
A number of school staff from the borough have received awards at a ceremony in the Civic Centre. Among those honoured was Helen Langley from the Blue School in Isleworth.
More than 330 years of work with children and young people was recognised at the Teachers Long Service Awards.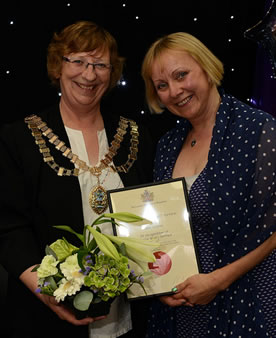 Helen Langley with the Mayor of Hounslow

The awards recognise those teachers who have dedicated more than 30 years to their career, with at least 15 years teaching in the borough.

Eleven school staff were nominated for the awards from across the borough, whose roles include teachers, teaching assistants and welfare support staff.

Cllr Tom Bruce, Cabinet member for education and children's services at the council, said: "As a teacher myself, it is incredibly inspiring to see such a wealth of experience being recognised.

"These people have dedicated their lives to helping thousands of children and young people reach their potential, and I'm delighted to be able to offer my thanks for their work."

The school staff were recognised at the ceremony attended by Cllr Bruce and the Mayor, Cllr Corinna Smart.

Other people nominated for awards were:

Kim Alker, Cardinal Road Infant & Nursery School
Jacqueline Davidson, The Heathland School
Leila Hanley, Cardinal Road Infant & Nursery School
Julie Fahey, The Heathland School
Pam Bolton, Grove Park Primary School
Caleceta Knight, Hounslow Heath Junior School
Lisa Powlesland, Marjory Kinnon School
Sue White , Fairholme School
Anne Ravening, Beavers
Julia Hall, Heston Primary
July 9, 2014