Failure to replan Prudential Ride London cycle race route branded irresponsible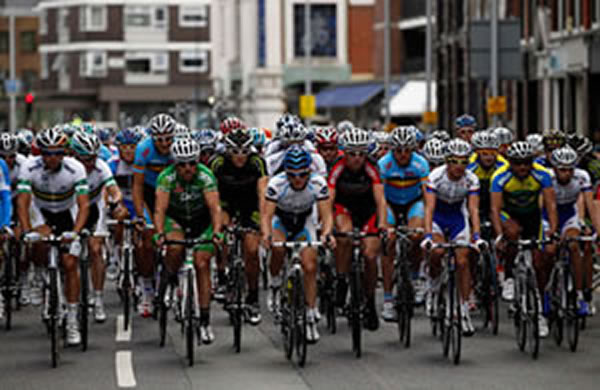 Prudential Ride London
Concerns are being raised about a possible 'traffic meltdown' centred on Kew Bridge during this year's Prudential Ride London Cycle road race.
The mass participation event run alongside a professional race has been run for the last few years and requires the closure of several major roads and bridges across West London. These include the A4 westbound to Hogarth Roundabout and Chiswick and Putney Bridges.
This year the race takes place on Sunday 4 August but for the first time Hammersmith Bridge will be closed which will make Kew Bridge the only bridge open to traffic wishing to cross the river in west London apart from Albert and Chelsea Bridges. It is likely that every bus route on diversion will need to use Kew Bridge. We have asked TfL for details of planned diversions but they did not respond.
Additional pressure on roads in the area is likely to result from the advent of the ULEZ in central London this year which will mean many vehicles will be unwilling to use bridges further up the Thames. The Central line is also closed for engineering works between Ealing Broadway and Marble Arch.
One local resident contacted us to say, "I enjoy this race every year and never miss a chance to go and see the peloton. Some people don't like the traffic and disruption it causes but in previous years this has been a known quantity and rightly judged a price worth paying. However, my fear is that they are being irresponsible and have made a grave miscalculation this year by not altering the route to allow one extra bridge to stay open. Kew Bridge and the roads in Kew, Brentford and Chiswick just aren't equipped to cope with what is heading their way. There is a danger of a traffic meltdown which might bring the city to a total standstill. Setting aside the dangers this would present, it might also prove terminal for the future of the event."
Cyclists in the Prudential RideLondon-Surrey 100 and 46 will pass through west London on the outbound route, from Hyde Park Corner to Chiswick Bridge, and again on the inbound journey towards the finish, crossing Putney Bridge and travelling along Chelsea Embankment.
Hammersmith Flyover, the westbound section of the A4, the A316 Burlington Lane and Chiswick Bridge will be closed at 5am in the morning with a reopening anticipated between 12.15 and 12.30pm.
We asked Prudential Ride London if consideration was given to replanning the route or if they had concerns about elevated traffic issues this year. They did not respond to the question. Material distributed by the organisers gives contradictory information about road closures at one point stating 'Putney Bridge remains open from Lower Richmond Road to Fulham High Street all day' however elsewhere it is stated that Putney Bridge will be closed from 7.30am to 7.30pm. According to Wandsworth Council localised vehicle traffic will be able to cross the bridge between the lower Richmond Road and Fulham High Street but Putney High Street will be closed.
The reader who pointed this out to us said, "Most people just throw flyers in the bin which is just as well if they contain misleading info like this. Far more effort needs to be put into making people aware of what is going to be happening. There is little evidence of any real desire to properly raise awareness particularly in areas likely to be worse affected."
A spokesperson for Hounslow Council said that they l did not make any representation regarding the Ride London route as the roads in question are managed by Transport for London (TfL) and the council does not have any control over them.
Tony Arbour, London Assembly Member for Hounslow and Richmond boroughs which are on either side of Kew Bridge said of the Hammermith Bridge closure, "This will add to the disruption in South West London caused by the race. Road closures should not be in place outside race time."
We asked TfL for comment and they have not responded.
July 19, 2019