Two high street salons fined for using unlicensed staff
The owners of two nail salons in Brentford are more than £4,000 out of pocket after putting clients at risk by using unlicensed staff to perform treatments.
Tin Van Nguyen, owner of Brentford Nails, and Mai-Ly Bui, owner of The Nail Salon, who both trade on Brentford High Street, were prosecuted by the council following checks to make sure they were complying with the terms of their special treatments licences.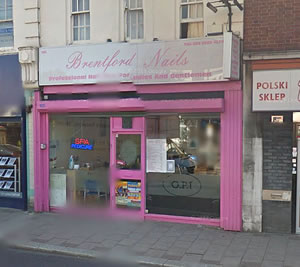 Brentford Nails
Beauty salons must apply to the council for a special treatment licence to carry out certain treatments. Therapists who carry out these treatments must be properly trained and qualified to an acceptable standard. This is a condition of the licence and a control measure that aims to reduce the risk to the public of injury or infection from blood-borne viruses such as Hep B or HIV.
Cllr Richard Foote, cabinet member for community protection at the council, said: "People using these salons are putting their health and wellbeing into the hands of the therapists, and have a right to expect treatments to be carried out by competent and qualified staff.
"The licensing regime is there to protect customers from potential serious harm, and we will not hesitate in taking action against those who think the rules don't apply to them."
The Health and Safety Licensing Team together with Hounslow Policing Team and the Fraud Team in November and December last year carried out unannounced inspections to salons across the borough to establish if they were operating according to the terms and conditions of their licence.
At Brentford Nails, officers found treatments being carried out by two employees, neither of whom was named on the licence. The original therapists registered by the business had left one month after the date of the licence application which started on the 1st April 2013. The business then failed to make any application for people it employed at the premises to be considered for registration with the Council.
Council officers found three unlicensed therapists providing special treatments at The Nail Salon, and three days later another person was found providing treatment, despite the earlier visit and warning given for having unregistered therapists working at the salon.
Both cases were heard at Feltham Magistrates Court on Monday, 30 June. Tin Van Nguyen was fined £1,000, and ordered to pay costs of £807 and a victim surcharge of £50. Mai-Ly Bui was fined £1,500, and ordered to pay costs of £860 and a victim surcharge of £50.
To find out more about special treatment licences, visit www.hounslow.gov.uk/licence_special_treatment
July 7, 2014