Suffered 50% burns when trying to start fire with bio-ethanol fuel
Three teenagers were injured at the weekend after attempting to use bio-ethanol fuel to start a barbecue in Isleworth.
One of the men, believed to be 18, is critically ill in hospital, after sustaining potentially life-changing burns to over 50 per cent of his body, including his face, body, arms and legs. The other two, both aged 19, sustained burns to their arms and legs.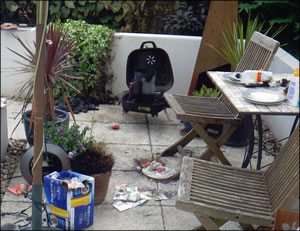 The aftermath of the fire
London Fire Brigade was called at 5.15pm on Sunday 8th June. One fire engine and five firefighters from Heston fire station attended the incident as well as paramedics and doctors from London's air ambulance service.
Charlie Pugsley, from the Brigade's fire investigation team, said: "The men poured bio-ethanol onto their charcoal barbecue, which they'd been struggling to ignite. They held a lighter to the fuel, causing it to flash over, which basically means it burst into a fireball. We believe they used bio-ethanol which was specifically intended for a 'real flame' fire inside the house."
Mark Hazelton, Community Safety Group Manager for London Fire Brigade, said: "This unfortunate incident highlights how dangerous it is to use unsuitable flammable fuels that are not designed to be used on barbecues. You should only ever use approved barbecue fuel or fire lighters to help to get your barbecue going.
"If this warm weather continues, we're really concerned that we could be seeing more and more of these incidents unless people take greater care with their barbecues.
"We wish the three lads well and hope they recover quickly from their injuries."
The Brigade said it attended another serious incident last year where three people were burned in a fire caused by people using bio-ethanol to ignite a barbecue on the balcony of a flat on the 34th floor of a high rise building in east London. In June 2012 a woman in Staffordshire died after sustaining serious burns caused by a bio-ethanol burner.
The Brigade's advice on bio-ethanol fuel is as follows:
• Only use bio-ethanol fuel in fireboxes and containers designed for the product
• Bio-ethanol fuel is highly flammable and should be kept in containers tightly closed and away from any ignition sources
• Never add fuel to a burning fire or overfill a fuel container and never fill up a firebox fuel container that is still hot
• Extinguish all fires when leaving a room or before going to sleep.
• Clean up fuel spills with a damp cloth and dry completely.
And its barbecue safety tips are:
• Only use approved barbecue fuel or fire lighters. Never use petrol or paraffin.
• Light barbecues well away from anything that could catch fire, like sheds, trees or fences
• Never use a barbeque indoors or on balconies.
• Never leave the barbecue unattended.
• Make sure your barbecue is fully out once you've finished with it and never dispose of it in a bin
About the incident
The Brigade was called at 17.18 on Sunday 8th June. One fire engine and five firefighters from Heston fire station attended the incident. Paramedics and doctors from London's air ambulance also attended and the three injured men were taken to hospital. The incident was over by 17.51.
June 10, 2014