Sir Dudley Smith represented Brentford and Chiswick from 1959 to 1966
Former MP for the Brentford and Chiswick constituency, Sir Dudley Smith has died aged 90.
He represented the seat which approximates to the current Brentford and Isleworth constituency from 1959 to 1966. It was his first spell in the Commons where he was an MP for 37 years serving as MP for Warwick and Leamington from 1968 to 1997.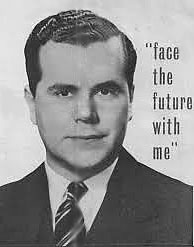 Dudley Smith
Sir Dudley worked as a journalist with local newspapers and the Sunday Express before becoming the youngest councillor on Middlesex County Council where he served until it was abolished in 1965. After becoming an MP second time around he served as a junior minister under Edward Heath.
He took Brentford and Chiswick by 2,919 following the retirement of the sitting Conservative MP. He campaigned to clean up the River Thames, to reduce aircraft noise from Heathrow and stopped night work taking place on the building of the Chiswick Flyover. He was also partly responsible for the North London Line (now part of the London Overground network) not being scrapped as the Beeching Report had recommended.
He retained the seat in 1964 with a reduced majority but lost out in 1966 by 607 votes to Labour's Michael Barnes. He then went to work for Beecham's in their public relations department before his return to Parliament.
The Boundary Commission is currently proposing to revive the name of the constituency he served.
Sir Dudley Smith, born November 14 1926, died December 14 2016.

December 19, 2016