Police say anti-organised crime operation largest ever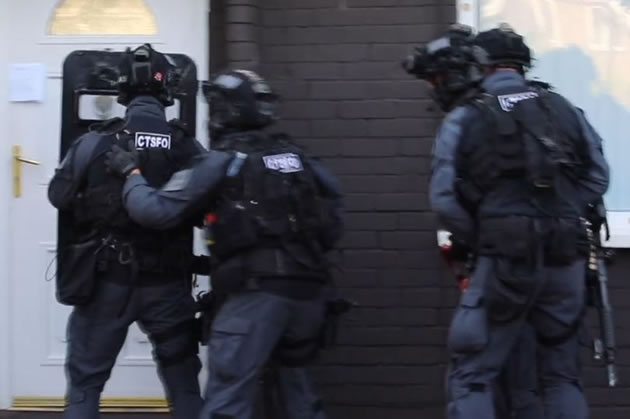 Police raids for Operation Venetic. Picture: National Crime Agency
A 30-year-old man from Brentford has been arrested as part of a nationwide swoop following law enforcement agencies managing to hack into a messaging system used by criminals.
Nagib Omar of York Parade has been charged with possession with intent to supply a class A drug. He among 113 people arrested in London and over 700 across the UK as part of an operation that has been described by police as their most significant ever.
The National Crime Agency claim that EncroChat was used by organised crime groups to trade in guns and drugs. EncroChat was one of the largest providers of encrypted communications and offered a secure mobile phone instant messaging service, but an international law enforcement team cracked the app's encryption. There were 60,000 users worldwide of which 10,000 were in the UK and the NCA say the sole use was for coordinating and planning the distribution of illicit commodities, money laundering and plotting to kill rival criminals.
Since 2016, the NCA Agency has been working with international law enforcement agencies to target EncroChat and other encrypted criminal communication platforms by sharing technical expertise and intelligence. Two months ago this collaboration resulted in partners in France and the Netherlands infiltrating the platform. The data harvested was shared via Europol. EncroChat was operated by a criminal group operating outside the UK.
The NCA have previously identified Albanian-Kosovan gangs as being responsible for a growth in supply of drugs into the UK in recent years and it is believed that this operation has led to many arrests from their network.
The operation has been taking place over the last three months and has involved thousands of law enforcement officers from the NCA, the Met and regional police forces across the UK. It has led to police seizing £13 million in London.
NCA director of investigations Nikki Holland said: "This is the biggest and the most significant law enforcement operation of its kind in the UK and it is previously unmatched in terms of its scale."
National Police Chiefs' Council lead for serious organised crime, Chief Constable Steve Jupp, said, "This unique operation has specifically focussed on those thought to be involved in the highest levels of organised crime and drugs supply across the UK.
"I want to emphasise that this work is the culmination of meticulous planning to tackle the most serious and organised crimes groups that have been working in our communities.
"Serious organised crime is complex but working together with our Regional Organised Crimes Units and the National Crime Agency we have achieved an unparalleled victory against the kingpin criminals whose criminal activity and violence intimidates and exploits the most vulnerable."

July 9, 2020