Teenage boy blinded in one eye after corrosive liquid was sprayed in face
A man from Isleworth has been sentenced to nine years in jail after spraying a corrosive substance into the face of a teenage boy leaving him blind in one eye.
Nineteen-year-old Sekeria Abdikarim of Lanadron Close was sentenced at Isleworth Crown Court. He was found guilty earlier in the month of throwing a corrosive fluid on a person with intent and attempted robbery.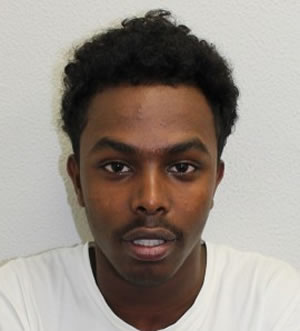 Sekeria Abdikarim
On Monday, 17 October 2016 the victim, who was seventeen at the time of the attack, received a call to meet Abdikarim at Jersey Gardens, Osterley. When he arrived at the park he was met by Abdikarim and another man, who remains unidentified. Another third unknown man jumped out from the bushes and used a water pistol to spray corrosive liquid at the victim's face. The liquid immediately started to burn him.
Abdikarim then pushed the victim to the ground and searched him. He ran off empty handed, leaving the victim on the ground in a substantial amount of pain.
The victim ran home and was taken to hospital where he was treated for several days. Doctors were unable to save the sight in the victim's right eye and he continues to have treatment for the injuries he sustained.
Hounslow Police launched an investigation and the following day Abdikarim was arrested for his involvement in the offence. He was later charged with grievous body harm (GBH) with intent. The charge was amended at court to throwing a corrosive liquid with intent, under Section 29 of the Offences against the Person Act 1861.
Detective Constable Nav Johal, who led the investigation, said, "Thanks to the courage and bravery of this young victim he was able to give evidence in court which ensured the conviction of Abdikarim. It was proven that Abdikarim was crucial in the set-up of the victim and it was also believed that he knew the water gun contained a corrosive liquid. His charge was later changed at court to reflect joint enterprise.
"The conviction and sentence indicates the severity of the incident and I hope it demonstrates how seriously the courts take crime as atrocious as this."
There are two outstanding suspects and officers are continuing their investigation to identify them. The suspect who jumped out from the bushes is described as a white man, of Eastern European origin, in his early twenties - he was tall and of medium build. The other suspect is described as a tall, black man, in his early twenties.
Anyone with information is asked to contact Hounslow Police via 101 or tweet @MetCC. Alternatively, call Crimestoppers anonymously on 0800 555 111.

December 22, 2017