Emotional reunion at surprise Christmas visit to recovering seven-year-old
Three police officers who saved a young boy's life in Brentford paid him a surprise Christmas visit and were inspired by the bravery and determination he had shown in his recovery.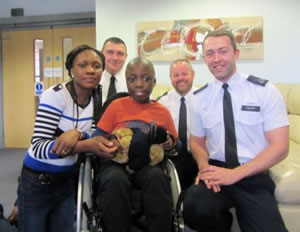 L-R Cynthia Akeju, PC Darren Greenall, Tami Akeju, Sergeant Allan Shields, PC Ed Bengree
Seven-year-old Tami Akeju was reunited with officers PC Ed Bengree, PC Darren Greenall and Sergeant Allan Shields earlier this month, at a medical rehabilitation centre where he is recovering. He greeted the officers with the words: "thank you for saving my life".
Tami suffered a cardiac arrest on 25 April at his home in Brentford, in full view of his parents Michael and Cynthia Akeju. He was in his bedroom sleeping when his heart and breathing suddenly stopped. Whilst Tami lay lifeless in Cynthia's arms, Michael called 999 for help. PCs Bengree and Greenall from Hounslow Response Team arrived at the home where they immediately commenced emergency CPR.
PC Bengree described the moment when they arrived at the house, "As soon as we arrived, Tami's mother came running out clearly distressed and in tears. We rushed into the bedroom and saw Tami still and lifeless on his bed and immediately started CPR. We immediately knew that every second counted and so Darren and I began CPR."
Police Sergeant Allan Shields soon arrived to provide support. He said, "I went into the bedroom and saw both officers performing CPR, which they continued to do for the next ten minutes. The paramedic arrived with the defibrillator; however he could not fit inside the small box room and instructed us to continue. PC Bengree took the defibrillator from him and attached it, delivering the first shock whilst I took over chest compressions."
Sergeant Shields continued, "After the first shock we waited for any sign of life, but there was nothing. We continued chest compressions and mouth-to-mouth resuscitation allowing the defibrillator to recycle before delivering the second shock.
"At this point we were all praying silently for this little boy's heart to start. Surely enough a faint heart beat was detected and Tami took his first breath which filled the room with hope and relief. Whilst we understood that Tami was not yet out of danger, we knew that we had given him the first and most important lifeline."
Tami was rushed to West Middlesex Hospital where he underwent emergency surgery.
The consultant in charge of Tami's care later said "the efforts of these officers undoubtedly saved Tami's life, without them I am sure this young man would not be alive today."
As a consequence of the cardiac arrest, Tami suffered brain damage which resulted in him being unable to walk, talk or feed himself, and he remained in hospital for four months. Since August, Tami has been at The Children's Trust, a specialist rehabilitation centre for children with brain injuries. Tami is doing well and relearning some of the key skills he had lost including walking and using his voice
Following the reunion Tami's mother Cynthia said, "I was delighted to finally come face-to-face with the officers who saved my son's life. Had it not been for them, Tami probably wouldn't be here today. That whole night was a nightmare and a complete blur and I couldn't thank them properly, so thank you for everything you did for me and my family.
"The day this happened, Tami had been to school and he was completely healthy. His whole life changed in a split second but I am so pleased that when he woke up he remembered his Mummy and Daddy.
"Thanks to all the hard work of the police, emergency services, The Children's Trust and, of course, Tami himself - he is recovering really well."
Sergeant Shields added, "As police officers we learn to deal with our emotions, but when we heard Tami's first words they touched us with raw and deep emotion.
"Tami's determination and bravery is simply remarkable. It's unbelievable when you witness how much strength this little boy has and how he will not give up on learning all the things any seven-year-olds do.
"We will never forget Tami and the inspiration he has shown us all."
As a result of saving Tami's life, PCs Bengree and Greenall, as well as Sergeant Allan Shields, are all due to receive awards for 'Successful Resuscitation' from the Royal Humane Society.

December 29, 2015