Drug dealer Ben Mash arrested in Isleworth
A man caught concealing heroin and crack cocaine between his buttocks has been jailed.
Ben Mash, aged 25, unemployed and of no fixed address, appeared at Kingston Crown Court on Wednesday, 19 November. After having pleaded guilty at an earlier hearing. He was sentenced to three years and 4 months imprisonment for two counts of Possession of class A drugs with intent to supply. Mash was also ordered to pay a £120 victim surcharge and £50 in court costs.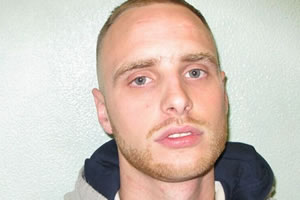 Ben Mash
The court heard how on Wednesday, 8 October officers were patrolling Thornbury Road, Isleworth where they stopped Mash as he was wanted for failing to appear on bail for a possession of cannabis offence he committed earlier in April 2014. He was arrested and taken to Hounslow police station.
At the station, one officer was injured after Mash became violent when he was being search.
Mash was restrained and 58 wraps of class A drugs namely crack cocaine and heroin was found between his buttocks. He was arrested for possession of class A drugs with intent to supply and assault on police and later charged for the offences.
PC John Taylor from Hounslow Crime Squad said: "Drugs cause a significant amount of harm to our communities and many drug users will commit other crimes to fund their drug habit.
"Mash is now facing a lengthy sentence behind bars. I hope this sentence serves a reminder to those who continue to deal in drugs that sooner or later we will arrest you and put you before the courts."
November 21, 2014