Elderly man spotted in water by member of the public
The body of an elderly man was retrieved from the River Thames near Kew Bridge on Sunday afternoon (Sunday 19th October).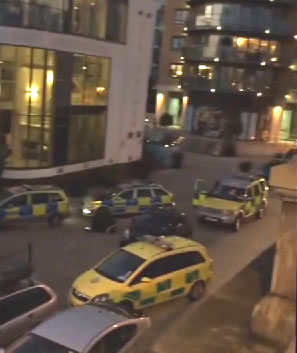 Emergency services outside Kew Bridge Road development
A call was received from a member of the public at 5.30pm after they spotted the man floating in the water.
The police and the lifeboat from the Chiswick RNLI station attended the scene and the body was unloaded onto the jetty in front of the new development on the north side of Kew Bridge on Kew Bridge Road. The police say they believe the man to be in his seventies.
A Metropolitan Police Service helicopter was observed circling the location during the afternoon and at least five other emergency services vehicles attended.
Enquiries by officers from Hounslow are underway to establish the identify of the deceased and inform next of kin.
October 20, 2014