Team made up of players from schools in Brentford and Isleworth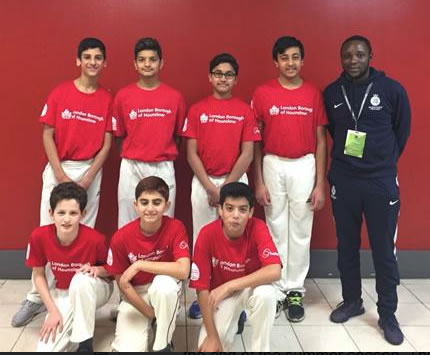 Photo: (L-R) Hans Sisodia, Jush Patel, Ishan Bancil, Zayd Kapadi; Isleworth and Syon, Hayan Butt; The Green School, Joseph Gilmour; Isleworth and Syon, Kiral Gunnwardena; Gunnersbury Catholic School and coach Karl Sylvester
A cricket team representing the borough made up of players from schools in Brentford and Isleworth reached the final of a competition at the London Youth Games. The event was held at Lord's cricket ground on Sunday 25 February.
The Hounslow side included pupils at The Green School, Gunnersbury Catholic School and Isleworth & Syon. They had an undefeated run in their qualifying group, where they racked up an impressive 284 runs and only conceded 63 over three matches.
In the final, the boys came up against a very strong Southwark team and fell to their only defeat, finishing 5th out of the 6 teams competing in the last stage.
All London Youth Games competitions accumulate points which provide the borough with a total score at the end of the summer season. This result at the cricket along with a good performance in the cross country event has helped Hounslow's chances of again finishing in the top 20.
Councillor Samia Chaudhary, Cabinet Member for Green Policy and Leisure, said, "I'm proud of how far these boys have come. Making the final is no mean feat when teams across the whole of London are competing. The standard is very high and they have done extremely well to make it this far.
"We hope the success of our boys' cricket team will inspire other young people in the borough to get involved in sport, either at a competitive level or for fun."
There will be a large number of borough trials and training sessions taking place after Easter for a variety of different sports, ready for the summer season. Young people across the borough are encouraged to get involved. To find out more, contact Jonathan.Barbour@fusion-lifestyle.com.

March 15, 2018