70 year old man killed by lorry on motorway
The M4 was closed westbound yesterday afternoon from Chiswick Roundabout to junction 3 following a serious incident. It has also been closed eastbound between junctions 2 and 3 causing significant traffic problems around the Brentford area.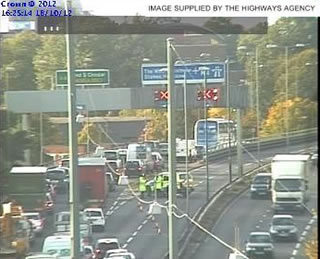 Police directing traffic away by Chiswick Roundabout
The closures followed the death of a 70 year old man near Heston services.
Police were called just after 3:50pm yesterday (Thursday, 18 October) to reports of a collision between a lorry and a man on the M4. The man was pronounced dead shortly afterwards,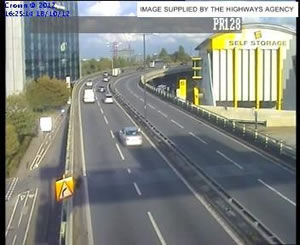 Empty westbound carriageway on elevated section
Whilst officers believe they know who the deceased is, next of kin have not yet been informed and they await a formal identification.
At this early stage it is believed the man was walking across the westbound carriageways of the motorway when the collision occurred.
The 63-year-old male driver of the lorry, a Scania HGV stopped at the scene and was not arrested.
The Road Death Investigation Unit at Hampton Traffic Garage are carrying out enquiries into the circumstances of the collision.
Officers are appealing for any motorists who witnessed the collision to contact them and are especially keen to hear from a motorist who stopped and administered first aid until the arrival of the ambulance service.
Any witness or anyone with any information should call police on 020 8941 9011.
October 19, 2012