Brentford High Street estate agency staying busy despite temporary closure of business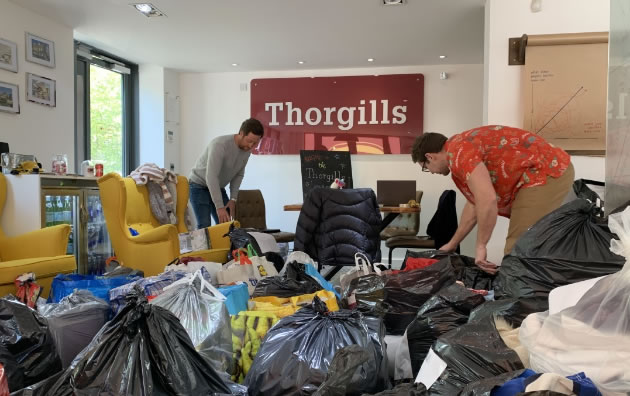 Thorgill's staff sift through donations
The team at Thorgills, the estate and lettings agency on Brentford High Street near the Ealing Road junction, has put its energy into the local community over the last few weeks while the doors of the business are temporarily closed.
Firstly, they helped Hounslow Foodbox, normally based in Brickfield Close behind Pets at Home, to relocate to larger premises at Rose Community Centre in Hawthorn Road near the Coach and Horses. The food bank was already an essential resource for those in severe financial difficulty, but since Covid-19 has caused many to lose their jobs, Hounslow Foodbox has had to become an even bigger crutch supporting the most vulnerable.
Daniel Madden, Sales Director at Thorgills, said, 'We usually donate around 200 items of food per month to Hounslow Foodbox, so we know the team and the cause they work for well. We were delighted to help them in these times by moving much of their stock to the new location, particularly as all it required was our cars and a bit of muscle!'.
Donations are warmly received by the team of volunteers at the food bank. If you want to donate check their website for their opening times and note any requests for particular items when you do your next weekly shop.
By carrying out safe doorstep pickups, Thorgills has collected over 250 bags of unwanted clothes and household basics, such as cutlery, frying pans and radios, from around 100 generous households in the local area. Some of these donations have already been delivered to local organisations supporting the homeless, vulnerable mothers and young families so the impact of local residents' generosity has been immediate.
Josh McGee, Head of Operations and Data at Thorgills, explained, 'We were overwhelmed by everyone's kindness and eagerness to support our collection drive. It's at times like these that we consider those less fortunate and it's great that we can play a part in helping people when they most need it'.
Thorgills are committed to finding worthy homes for the items collected, but many organisations that would ordinarily accept these donations are currently closed. If you know of a local charity or support group that could benefit from these items the Thorgills team have collected, please contact info@thorgills.com.
The homeless support centre at the Ealing Road Baptist Church Hall has not only received much needed donations of clothes from Thorgills for its clients, but also hearty dinners. Thorgills' Head of People and Compliance, Henry Lane, is coordinating a group of his neighbours to take turns in cooking for the homeless each week, with dishes such as an aromatic vegetarian curry, tasty baked potatoes and a healthy root vegetable soup, all of which are distributed to those in need by the volunteers at the centre. Henry said 'Our street has really come together over the last few weeks and our neighbours needed little persuasion to give their time, food, ovens and skills to help Thorgills support such an important local cause.'
Lastly, the founder and Managing Director of Thorgills, Ben Madden, who grew up just a few doors away from the office, has discovered a hidden talent a children's entertainer. As a dad to two young children, he certainly knows what colour the Gruffalo's prickles are and his encyclopaedic knowledge of Disney princesses is impressive, so he's putting this to good use by presenting a twice-weekly quiz just for children. Ben said 'Parents, if you'd like a bit of fun during the busy days of juggling home-schooling and working from home, sit down with the kids and join me live every Tuesday and Thursday at 3pm on the 'Thorgills HQ' Facebook page".

May 8, 2020