St. Paul's Church Brentford one of three drop off collection points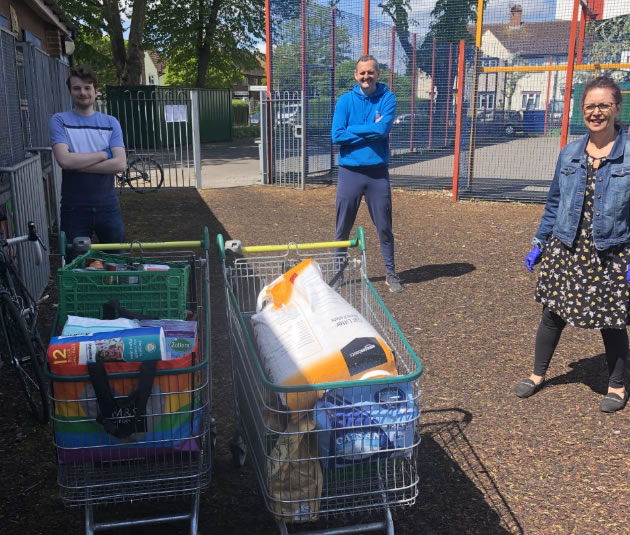 Some of the group's members with donations
Following the success of the first community donations drive at St Paul's Church last month, the Hounslow Mutual Aid Group will be running a second donations drive this Saturday, 9 May.
Based at three locations across the borough of Hounslow in Brentford, Isleworth and Central Hounslow, the donations drive aims to collect food and toiletries to help support those most in need during the current pandemic.
The group is asking residents to donate food that is sealed and non-perishable, as well as unopened toiletries and unused adult colouring and puzzle books.
Collection points will be set up at St Paul's Church (TW8 0PN) for residents in Brentford, The Royal Oak Pub (TW7 6EP) for residents in Isleworth and the Hounslow Youth Centre (TW3 1NX) for residents in Central Hounslow.
The community donations drive allows residents to donate much needed essentials to a central location, to then be distributed among local organisations helping vulnerable members of the community during the current pandemic.
The initial donations drive pilot was held last month, with the help of St Paul's Church in Brentford. The generous donations made by the community in TW8 enabled several large deliveries of food and toiletries to be distributed to organisations including the Hounslow FoodBox, St. Paul's Foodbank, The Ivybridge Foodbank, The Open Kitchen and West Middlesex Hospital. These organisations rely on donations like these to continue to support neighbours in need during the current global pandemic.
"Now more than ever, the community needs us to come together and help those most in need," said Adrianne Mead of the Royal Oak Pub and a Hounslow Mutual Aid Group organiser. "By extending this drive to Isleworth and Hounslow, we can build on the success of the previous donation drive at St Paul's Church and make sure the organisations right across the borough which are on the frontline helping our community get the donations they need at this critical time."

May 8, 2020