Jon Hardy would like more people to share the love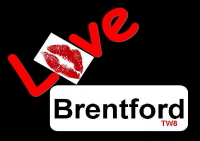 The loveBRENTFORD survey delivered to every home in the TW8 area just before Christmas has garnered nearly 400 responses: 'Not enough!' says Jon Hardy, managing the project for Brentford Community Council.

The survey cards returned so far are from those people who normally respond to surveys but it was always the ambition of this exercise to connect with those people who don't as well.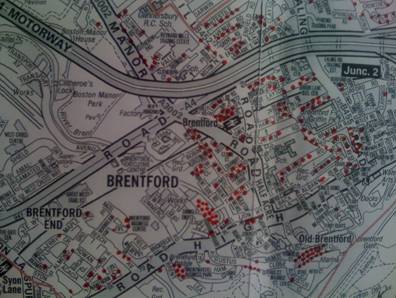 The current returns were plotted on a map to demonstrate this: there's a rash of points around such areas as Brook Road North and Lateward Road where there are are largely on-street properties but comparatively few from the Claypounds Estate and just from the Haverfield Estate and Brentford Towers on Green Dragon Lane. Church Walk - where there are only 36 properties - returned the highest number of survey cards for a street at 10, more than the entire Syon Estate with over 600 homes.
Is this apathy? Not exactly: 'it was anticipated that residents in such areas who often feel disconnected from local democratic processes would question the point of such an exercise. Democracy is a drum one often has to bang very hard in order to get a sound.'

Determined to ensure the survey has a demographic validity the BCC will be canvassing door-to-door, outside schools and local shops in the coming weeks to get wider coverage. 'For the 10,000 homes in the TW8 area we need 1,000 responses spread evenly over the area – but we'll take more.'
The survey is 7 short questions on Brentford and take under a minute to complete: completed surveys also go into a free raffle for a bottle of champagne.
For those 'survey monkeys' out there the longer survey can still be completed online at the Brentford Community Council website at http://www.brentfordcc.org.uk/joomla/index.php (on the top right of the home page)
January 25, 2011