ISIS Waterside Regeneration gains full planning consent for Commerce Road development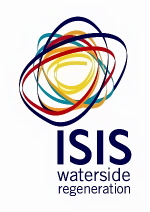 ISIS Waterside Regeneration has secured planning consent from the London Borough of Hounslow for phase one of its proposed mixed use scheme: Brentford Lock West. The initial plans, which secured approval this month, were submitted back in March this year with a recommendation for approval and followed an engagement process with the local community.
Detailed planning was granted unanimously for the first three buildings in the scheme with the planning committee giving the team special recognition for their close consultation with the local community. The Chair of the committee commended the team's commitment to become an integral part of the local community and suggested that the approach should be noted and set as an example for others to follow.
The scheme is designed to maximise the water frontage. Its generous outdoor spaces and living accommodation have all been carefully designed to embrace a thriving waterside community and will encompass residential, commercial and leisure space. This first phase will comprise a mix of 150, one, two, three and four bedroom apartments and townhouses, all for private sale, together with commercial units in the retained art deco buildings.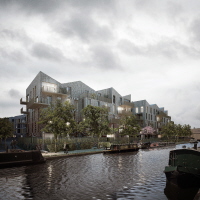 As part of the overall scheme, ISIS will be working in conjunction with British Waterways to make a number of improvements to the moorings at Brentford Lock West. These improvements will include the addition of new visitor mooring and hook up points, along with the installation of a new floating pontoon to be used by the local canoe club. Further enhancements will also be made to widen the canal towpath.
ISIS has also partnered with the Brentford FC Community Sports Trust to launch The ISIS Challenge. The event, which will take place on 11th August this year, is designed to encourage the community to make use of the water and local environment while celebrating the trust's 25th year as a community organisation. The event is open to anyone from eight years upwards. Local residents will be given the opportunity to take part in a day packed full of activities, including paddleboarding on Brentford Lock, a 5km run and a family fun day at The Great Conservatory, Syon Park.
Lee Doyle, Chief Executive of Brentford FC Community Sports Trust said: "The team at ISIS have been extremely pro-active in building relationships to promote community engagement in and around Brentford. In addition to supporting our forthcoming ISIS Challenge, they have provided us with boat storage at Brentford Lock and have initiated exciting plans around a future canal based Community hub. We have built our Trust activities on productive partnerships with organisations from the public, private and third sector and our relationship with ISIS promises to create many new opportunities for local people to feel connected with their community."
Katie Sully, Development Director at ISIS Waterside Regeneration, said: "Having spent a long time working with the local community to take on board their thoughts and concerns, it is great news that we have now secured planning and will be able to press ahead with our plans for the creation of this exciting new community. The homes at Brentford Lock West have really been designed to maximise their waterside location and will support the on-going regeneration in this area. There is a great sense of community in Brentford and it has been important to us that we engage with the local people who live and work here. Events such as The ISIS Challenge, which is coming up over the summer, will provide a great opportunity for us to further immerse ourselves in the local community and to start talking to people about the new homes that will be available. Our sales and marketing suite will be launching early next year but I would urge those that are interested in the homes to get in touch and register their interest now."
Work on site is due to commence in winter 2012, with the first homes being completed in winter 2013. A marketing hub will be established on the site in spring 2013. Off-plan reservations are expected be taken from the end of 2012 onwards and interested buyers are being urged to register their interest now by calling 01628 482276, emailing info@brentfordlockwest.com or visiting www.brentfordlockwest.co.uk
The overall scheme will comprise 520 residential homes, 20% of which will be affordable. The scheme will also deliver 7,000 sq metres of commercial space, helping to create around 300 new jobs for the area. £2 million has been allocated for investment into local health and education facilities.
Leading architects Duggan Morris, Karakusevic Carson and Riches Hawley Mikhail have all worked collectively to design the first phase of this development, each taking responsibility for one of the three buildings which combine to make this initial phase.
ISIS Waterside Regeneration is a multi-award winning developer, having previously completed two highly successful, residential developments: Islington Wharf in Manchester and Granary Wharf in Leeds. ISIS is a partnership company, owned by British Waterways, igloo (the regeneration fund of Aviva) and MUSE Developments, with 50% of its returns re-invested by British Waterways in the maintenance and enhancement of the UK Waterway network. It is committed to revitalising Britain's waterways by creating sustainable waterside communities and delivers high quality and well-designed schemes based around complementary, mixed uses.

For further information visit: www.brentfordlockwest.co.uk or call Stubbings Property Marketing on 01628 482 276.
Advert
July 2, 2012