ISIS waterside regeneration submits detailed plans for the first phase of its development in Brentford
ISIS Waterside Regeneration has lodged a detailed planning application for phase one of its proposed mixed use scheme with Hounslow Borough Council.
The developer secured outline planning consent on the 520 residential unit scheme, situated on the banks of the Grand Union Canal in Brentford, in March 2012 and is forging ahead with the next stage of planning for the 11 acre development site, known as Brentford Lock West, located off Commerce Road.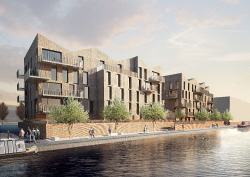 The scheme has been designed to maximise the water frontage, with generous outdoor spaces and living accommodation, to create a thriving waterside community which will encompass residential, commercial and leisure space.
ISIS, the UK's leading waterside property developer, submitted an application to redevelop the site in November 2010 following an 18 month period of stakeholder engagement and public consultation, receiving commendation from the Sustainable Development Committee at Hounslow Borough Council and an Urban Design Award in February 2012.
Phase one of the scheme has been designed by leading architects Duggan Morris, Karakusevic Carson and Riches Hawley Mikhail, who won the contract following a design competition in September 2011. Planning Consultants for the development are Tibbalds Planning and Urban Design.
The first phase will comprise a mix of 150, one, two, three and four bedroom apartments and townhouses, all for private sale, together with commercial units in the retained art deco buildings. An upgraded and widened towpath, connecting through to the public realm within the development, will help create a stunning waterside destination for the Brentford community.
Subject to planning consent, works on site are due to commence in winter 2012, with the first homes being completed in winter 2013. A marketing hub will be established on the site in spring 2013.
Katie Sully, Development Director at ISIS Waterside Regeneration, said: "Brentford is a fantastic location and with all of the regeneration that's taking place we're excited to be playing a key part in breathing life back into the area. ISIS knows how to harness the unique natural qualities of our waterways to create genuinely sustainable places for people to live, work and enjoy and Brentford Lock West will allow residents to make the most of waterside living.
"The scheme has been carefully designed to maximise the water frontage, while offering stylish and unique homes that are focused around a sense of community, with plans for allotments and public spaces all factored into the design. Having already secured the outline planning consent, we have been working closely with the architects to design and create the initial phase of this development, which we hope to launch to the market next year."
Of the overall 520 residential homes, 20% will be affordable homes. The scheme will also deliver 7,000 sq metres of commercial space, helping to create around 300 new jobs for the area. £2 million has been allocated for investment into local health and education facilities. In addition, community uses are incorporated as ISIS have been working with the local canoe club, EDGE, in association with Brentford FC Community Sports Trust, and Cultivate London who are already established on site.
ISIS Waterside Regeneration is a multi-award winning developer, having previously completed two highly successful, residential developments: Islington Wharf in Manchester and Granary Wharf in Leeds. ISIS is a partnership company, owned by British Waterways, igloo (the regeneration fund of Aviva) and MUSE Developments, with 50% of its returns re-invested by British Waterways in the maintenance and enhancement of the UK Waterway network. It is committed to revitalising Britain's waterways by creating sustainable waterside communities and delivers high quality and well-designed schemes based around complementary, mixed uses.
For further information visit: www.brentfordlockwest.com or call Stubbings Property Marketing on 01628 482 276
April 25, 2012