Brentford Voice ask whether after 46 years it should come and to where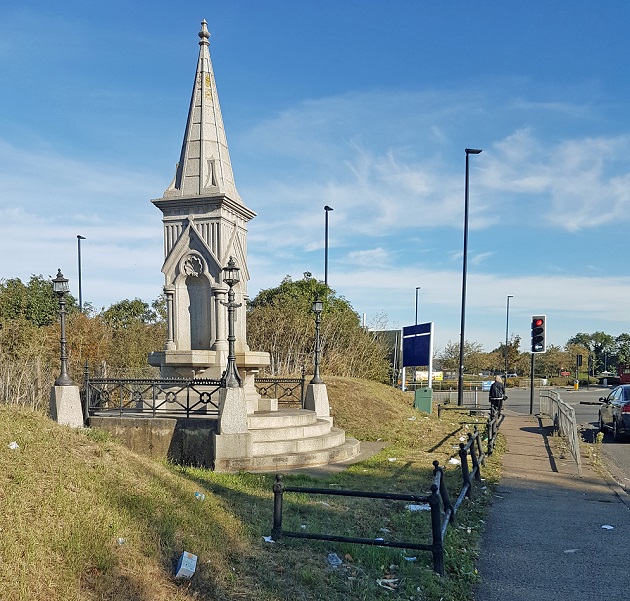 The Brentford Fountain, today
The Brentford Fountain ("Brentford's Elgin Marbles") was officially opened in 1877 on a site between The Express Tavern and the northern approach to Kew Bridge. Constructed from Cornish granite, it is a Grade II listed structure and it is a magnificent example of Victorian Gothic design. There are no comparable fountains remaining elsewhere in London.

The Brentford Fountain in the 1880s
With the closure of Brentford Market In 1974 the Fountain was moved to the Western International Market in Hayes and there it remains today, languishing unhappily and unnoticed on a verge surrounded by busy roads, litter, and fly-tipping. The Fountain is in remarkably good condition but it is desperately in need of some tender loving care. Two of the lamp columns are badly damaged and two horse troughs that were at the base of the structure were lost when the Fountain was moved in 1974.
Brentford Voice have been working for over 9 months to find a way to bring the Fountain back home. The costs would be substantial but we are optimistic that sufficient funds can be secured from the Heritage Lottery Fund and from other sources. There would be no direct cost to the London Borough of Hounslow or to Brentford residents.
We intend that the Fountain will once again provide drinking water and that the lamp columns will be illuminated with low intensity lights. The Fountain is, by fountain standards, a magnificently large and imposing structure measuring 8.5 metres high and 6.4 metres across at its base.
Please let Brentford Voice know if you support the principle of bringing the Fountain back home and, if so, can you suggest a suitable site? Any other thoughts would be most welcome. Please email your thoughts to info@brentfordvoice.co.uk or post them on the BrentfordTW8.com Forum.
If you'd like to know more about Brentford Voice visit Brentfordvoice.co.uk/ or subscribe to the newsletter at brentfordvoice.co.uk/newsletter
February 28, 2020