And a long list of achievements for nine months of existence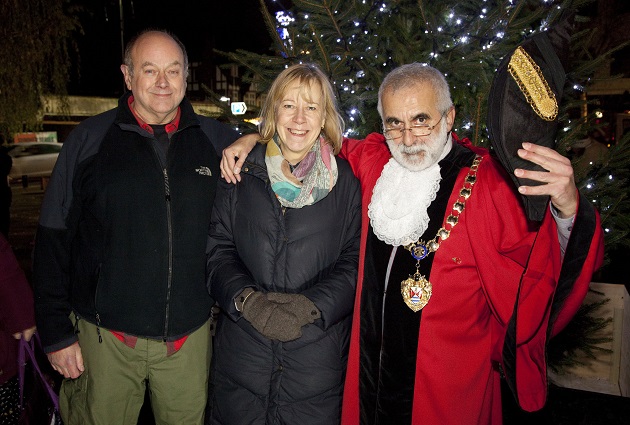 Martin Case - the chair of Brentford Voice, Ruth Cadbury MP & The Mayor of Hounslow Cllr Tony Louki, in front of the Christmas tree on Brentford High Street.
Brentford Voice held their first Christmas party at Verdict last week after Cllr Tony Louki, Mayor of Hounslow turned on the Christmas tree lights on Brentford High Street.
This served as an opportunity for members to come together and celebrate all things Brentford. During the party the mayor read out the questions for the pub quiz which was all about Brentford. First prize was a bottle of prosecco donated by the Magpie and Crown and some Brentford Nylon pillow cases still in their original packaging!
A raffle was held to raise money for the ongoing work. Thank you to the local hostelries and businesses who were very generous in donating prizes: The Griffin, The Black Dog, The Globe, The Weir, Express Tavern, Syon House, Waterman's Art Centre, Museum of Steam and Water, Osterley House Heritage Walks, Naked Grain, teapigs and Hen Corner.
The party was very well attended, a lot of fun and members got to chat to each other and share a glass or two of wine. It was a great evening!
In the first 9 months of existence Brentford Voice have:-
Established legally as a Community Interest Company with directors and members.
6 groups working across the following issues planning, green and environment, conservation and heritage, transport and streets, town centre and Brentford vision.
Growing recognition of the Brentford Voice name with now approaching 200 followers.
A website - brentfordvoice.co.uk/
Developing relationships with both Brentford and Syon councillors and key LBH officers.
Open relationship with senior members of the Ballymore Brentford Project team
Objected at the Hounslow Planning Committee in August to details of the Ballymore car park.
Provided detailed comment on the Great West Road Corridor consultation and other major proposed developments in Brentford.
Arranged a public meeting in July on the proposed expansion of Heathrow, with Ruth Cadbury MP as the key speaker.
A representative on LBH's Air Quality Steering Group.
Attended and partook in the Climate Emergency Workshop
Published a Statement for the UN Conference on Climate Change.
Organised Brentford hustings for the 12 December General Election.
Got a Christmas tree in the Market Place (funded by Ballymore) and the switching on of tree and High Street lights by the Mayor of Hounslow.
Continued work with High Street traders on problems resulting from the closure of shops and small car park on South side of High Street.
Plans for a Canal Festival in June 2020.
Plans to return the Brentford Water Fountain from Western International Market to a site within Brentford.
Working on a proposal to improve connectivity in Brentford both North to South and East to West.
Brentford Voice meet regularly, these are open meetings for all to attend to discuss the issues which have been recognised as requiring actions. BV also identify projects which we believe if come to fruition will help make Brentford a better place in which to live, work or visit. All of this is fired by the belief that to make this happen it requires 'People who do something', so if you'd like to be involved in this exciting project then do get in touch at info@brentfordvoice.co.uk or keep a look out for notices of meetings,
December 20, 2019