Topnotch trial membership proceeds going to local health care
Related Links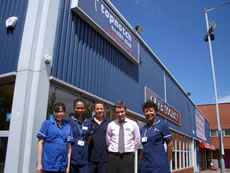 L-r: Sarah Cruz-Lee, Elaine Danns, Leighton Wattes, Phil Hall and Islyn-Pennycotte-Jones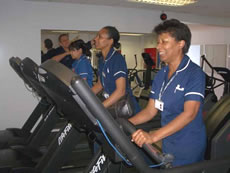 West Middlesex nurses try out the facilities on offer
Participate
Sign up for our free newsletter

Comment on this story on the
Topnotch, Brentford's premier health club, is launching a special fundraising event which allows you to try out the club and get fit whilst at the same time contributing much need funds to local health care provision .
During September the health club is running a 7 day trial membership for just £7, with all proceeds going to West Middlesex University Hospital.
Phil Hall, manager of Topnotch Brentford, said: "As West Middlesex Hospital is just on our doorstep, we want to give something back to our community and came up with this promotion. Our seven days for seven pounds promotion is a great opportunity for people to try out the facilities at Topnotch whilst knowing that they are benefiting their local hospital."
Topnotch is located at 1-2 Windsor Close, West Cross Centre, Brentford, TW8 9DZ just off the A4 near the PC World superstore.
West Middlesex University Hospital NHS Trust is a major acute hospital in Isleworth, West London. It provides a full range of services to residents of the London Boroughs of Hounslow and Richmond Upon Thames. Our imperative is to meet the changing needs of our local community through genuine commitment to providing high quality care in every respect.
September 4, 2007